What's for Lunch? Spicy Ginataang Busikad | #CookwithYza | Lent Edition
Hello, Hive friends and fellow foodies! Your girl Yza is back for another episode of "What's for Lunch," and today I'm excited to share a very delicious and healthy Filipino meal for you to try.
As you know, we are now celebrating the Lenten Season, and the Philippines is one of the countries where almost 78% of its population is Catholic. One of the customs observed during the Holy Week is the abstinence from eating meat.
So with that being said, here's a meal idea perfect for this season.
Presenting my "Spicy Ginataang Busikad"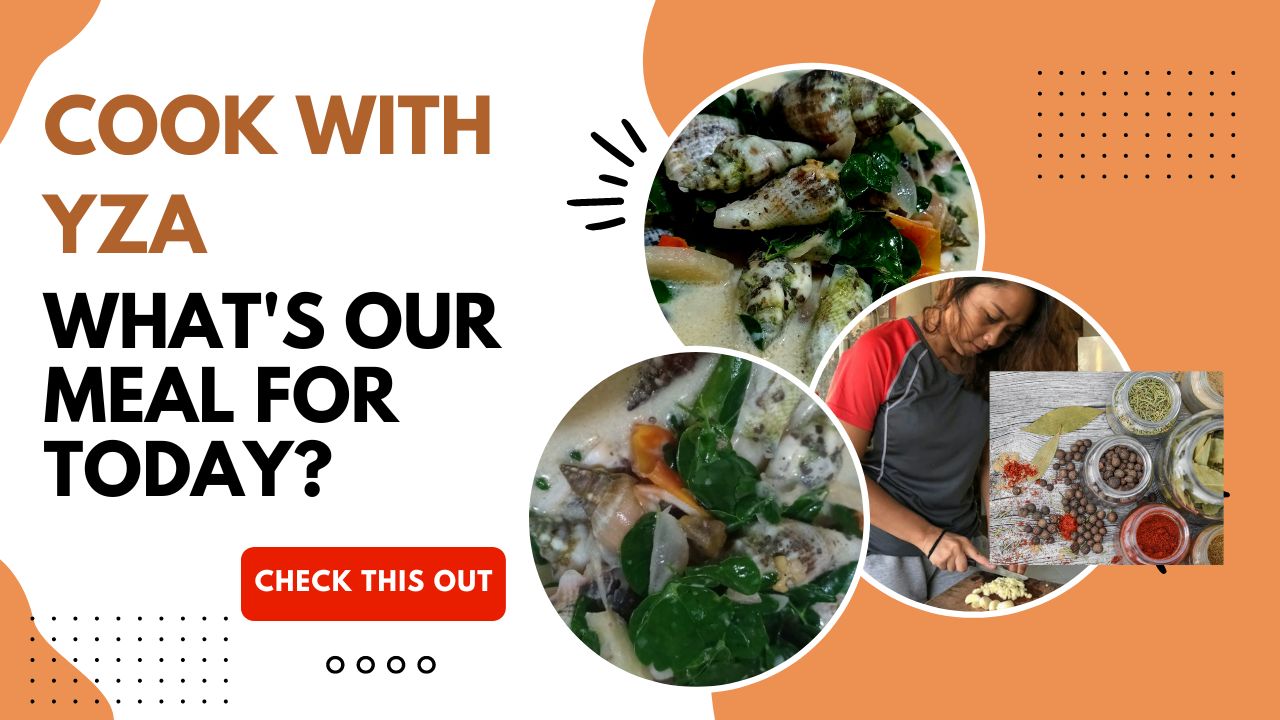 Busikad one of my personal favorites back in Guiuan. Every time there is a big lowtide, my family and I would always go to the sea just behind our house to pick these shells. We call this in our dialect pamurot," or to pick, and the shells that we are able to gather are called pinurutan," or the picked ones. We would bring basins or buckets with us, and before we knew it, they would be filled with different kinds of shells, including the busikad. If you were lucky, you might also bring home some crabs.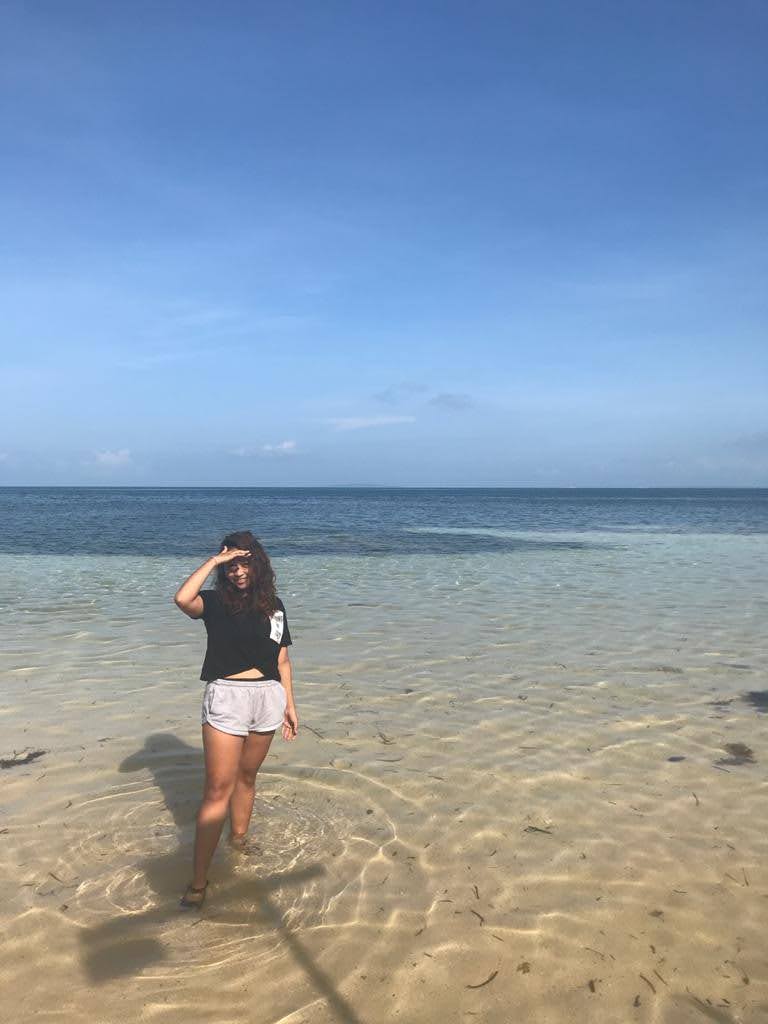 Say hello to our backyard in Guiuan, that dark spot is filled with seaweeds where we get the fresh seashells every lowtide
We just need to walk a few meters away from the shore, into the big forest-like bed of seaweed, and we'll be on our way to finding these yummy shells. It's like finding treasures hidden in the seaweed and sand. We would always go home with a bucket full of fresh seafood. Healthy and Free - care of Mother Nature. ❤️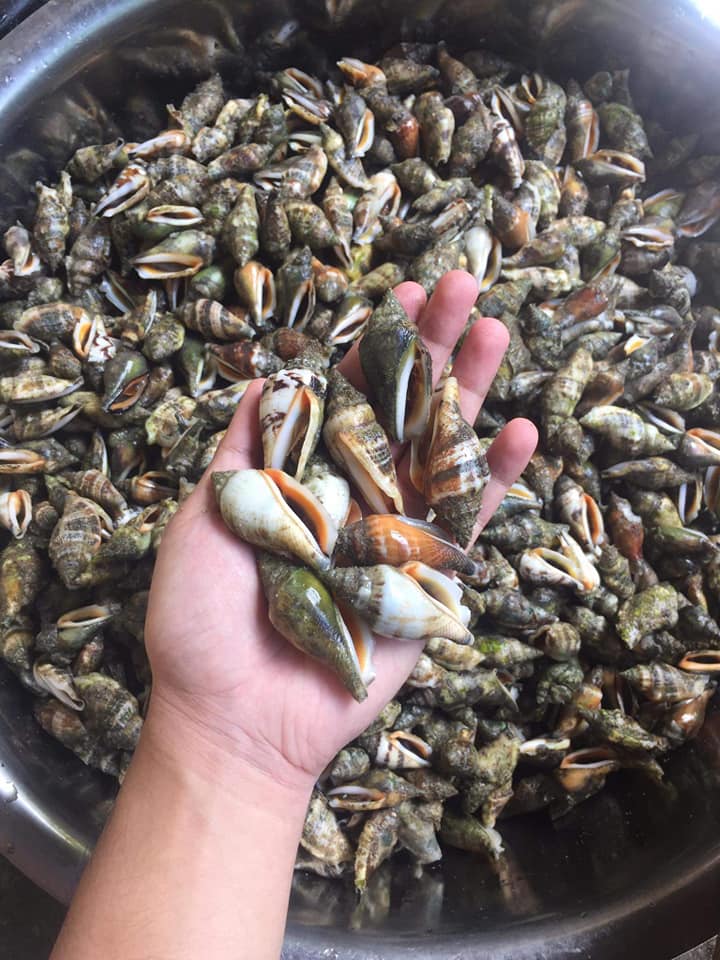 SOURCE
Busikad, or as it is known in other places, Aninikad, is a type of sea snail from the family Mollusca. You may know this species as the plicate conch or bear conch. This type of shell can be found in tropical waters around the world.
You can also find this in some local markets in the Philippines. I was lucky to find one in the market near us in Cebu since I had been craving for this shell for a long time now and it made me miss Guiuan, so I went ahead and bought a kilo, and to my surprise, it cost ₱120.00 ($2.20) with the shell still on it. I don't know if it's expensive or cheap compared to what the locals are used to since I am very used to just getting it for free; the only thing I pay is some time, patience, and sunburn from picking them in our backyard. 😅
So much for the story-telling; let's head to cooking.
There are many ways in which you can cook your busikad, but I like mine spicy and with coconut milk.
So first, you need to clean the shells. Wash and brush it with a toothbrush to ensure it's clear of any dirt or algae sticking from the shell.
Next, prepare the ingredients:
Cooking oil
1/4 teaspoon black pepper
1/4 teaspoon of salt
5 pcs. red chilies (adjust according to taste)
2 cups coconut milk
4 cloves of garlic, chopped
2 thumbs of ginger sliced
1 onion, sliced
1 tomato
Malunggay leaves
Busikad
Instruction :
Heat the cooking oil in the pot.
Sautee garlic, onion, and ginger.
Put the busikad in the pot, stir, and cook.
Add 2 cups of water and bring to a boil.
Add the coconut milk and the hot chilies.
Cook under medium-low heat, letting it simmer
Add pepper and salt to taste.
Add the malunggay leaves.
Serve and Enjoy
Tips and tricks when eating the busikad straight out of the shell
Make sure you have your safety pin or perdib-le with you; you will need it in order to get the meat from the shell. Just hook it and pull the meat in a zigzag motion until it loses it's grip.
I know it's kind of a hassle, but it's part of the experience. Anyhow, there is also busikad sold in the market without the shells already, so you can just cook it right away minus the hustle; at least in Guiuan, there is that option; I'm not really sure here in Cebu. But I promise, this dish is worth every hassle.
Or you can also cook the Busikad first by boiling it and removing the shells afterwards before you use it for any recipe that you prefer, just like this one :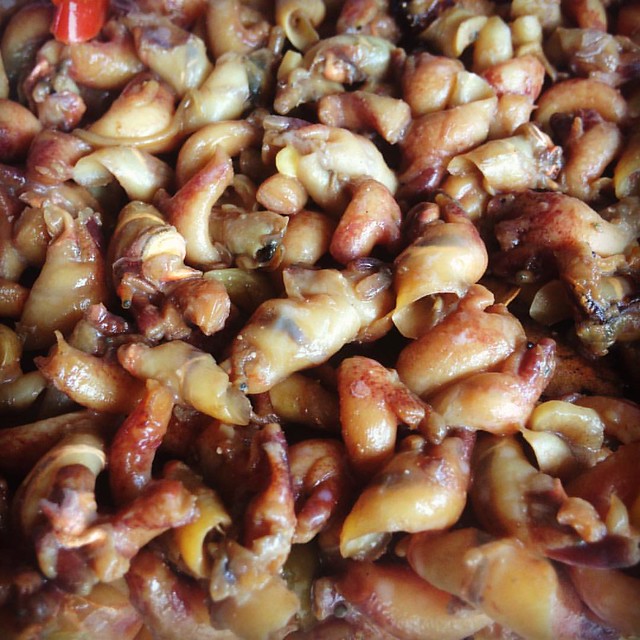 SOURCE
That's it for today's recipe. It's as easy as 1, 2, 3, and for sure you will get some extra rice because it's a dish that's simply irresistible.
As my partner will always say, "Sabaw palang, ulam na."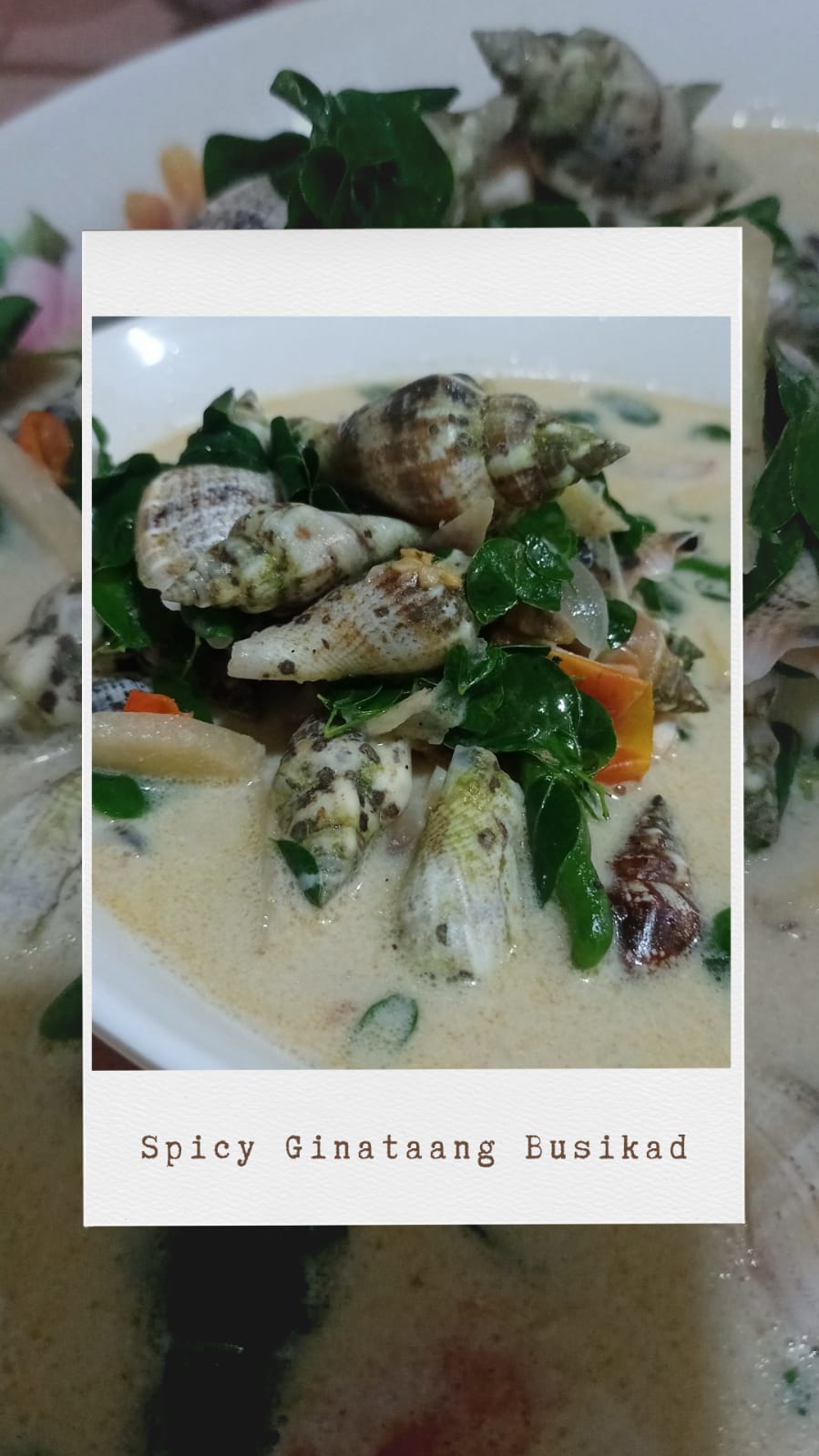 ---
Are there also Busikad from where you are from? How have you ever tried this kind of dish? Let's talk more in the comment section and share your favorite seafood recipe too. I would love to hear from you.
Keep safe always!
xoxo
Yza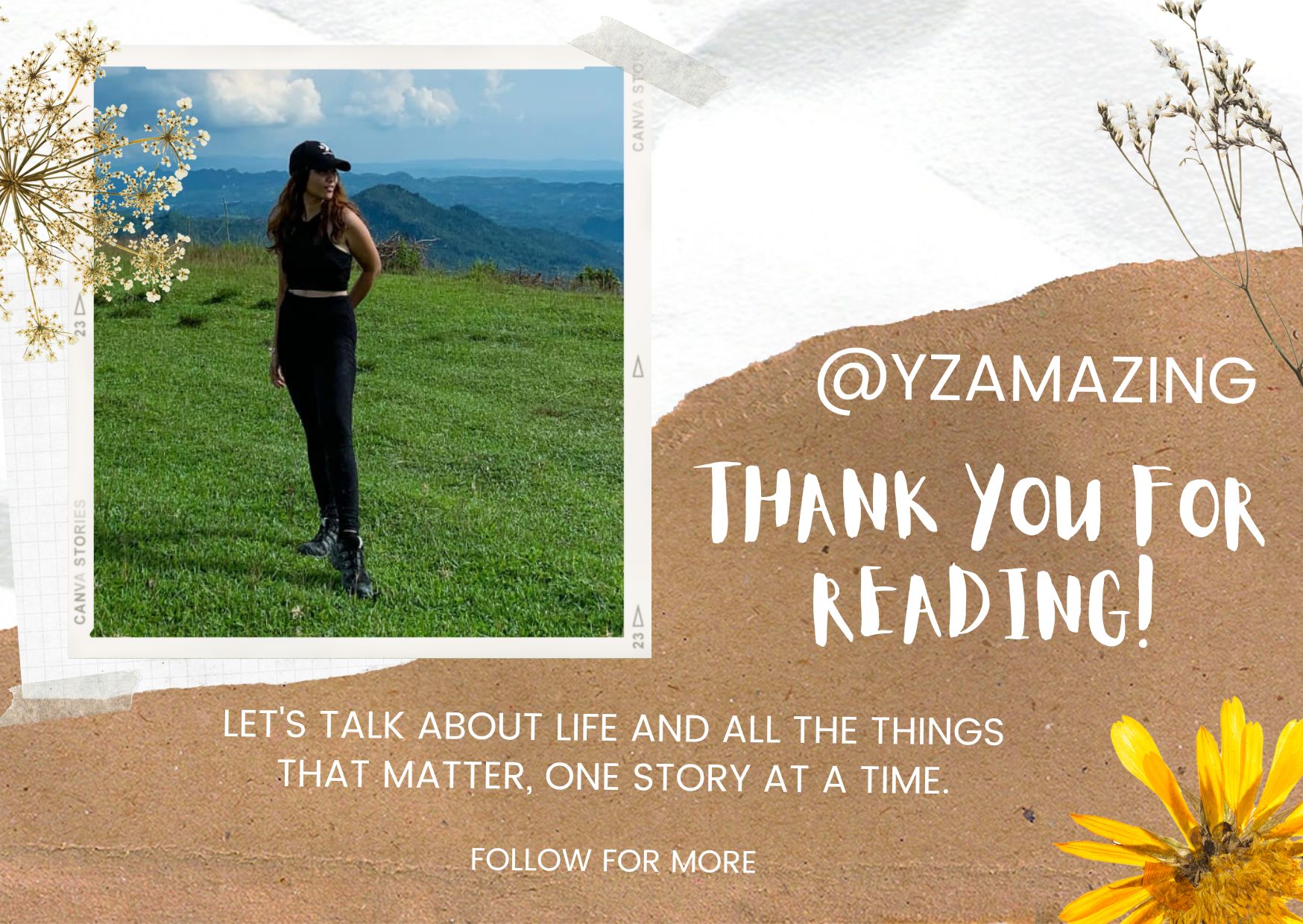 Ma. Morena
is a nature enthusiast, an optimist and outgoing person who loves turning her adventure and thoughts into writing.
Liked what you read? show some love by sharing your comments and upvote the content. Feel free to re-blogged the post and help spread positivity by paying it forward.

---
All photos were either taken by me and some where shared photos from my colleagues with permission to upload unless stated otherwise. Images may have been shared to my social media accounts prior posting to the blog.