Budlaan to Kan-Irag | My Favorite Hiking Trail within Cebu City
Do you also love hiking? Come join me on a mini tour as I take you to my favorite hiking trail within the metropolis.
Yes, you got that right! If you're in Cebu City, you won't need to go up North or down South just to enjoy a good hike and spoil yourself with the beauty of the mountains.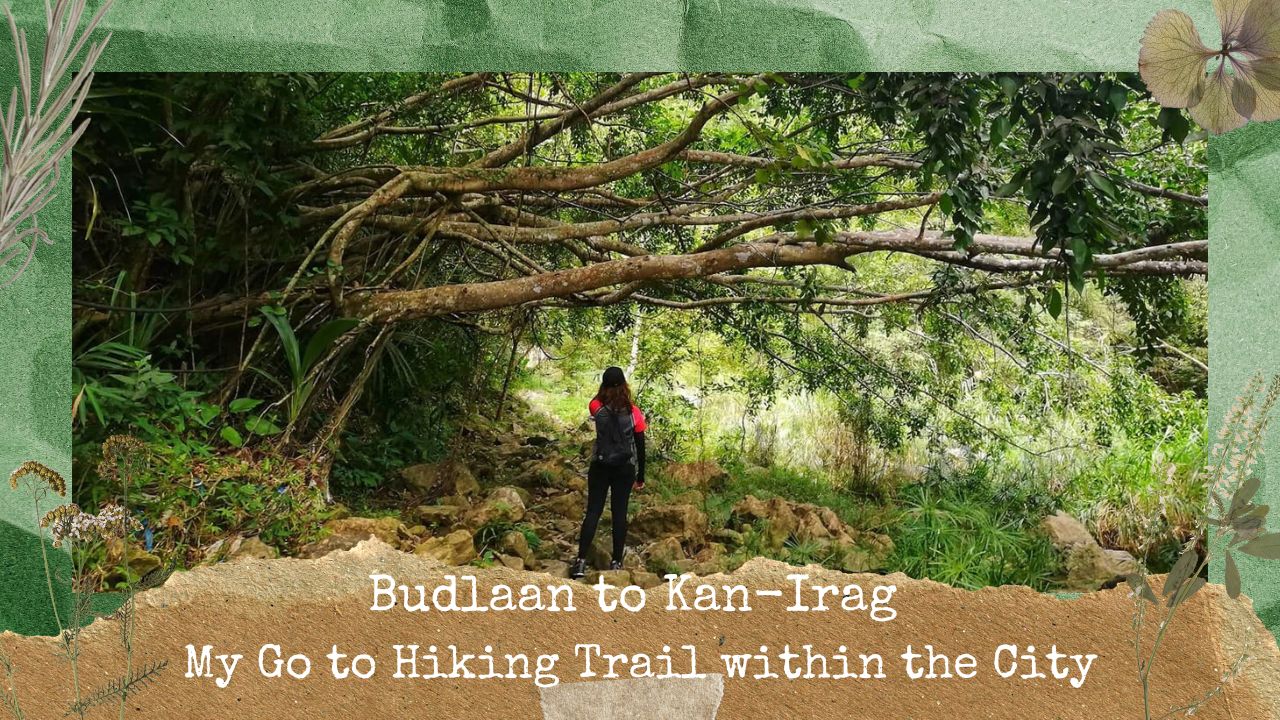 All it takes is one Jeepney ride to Talamban, just a few minutes away from the heart of the city and you will reach the famous Budlaan-Mt.Kan-irag trail.
Here is a map of the trail.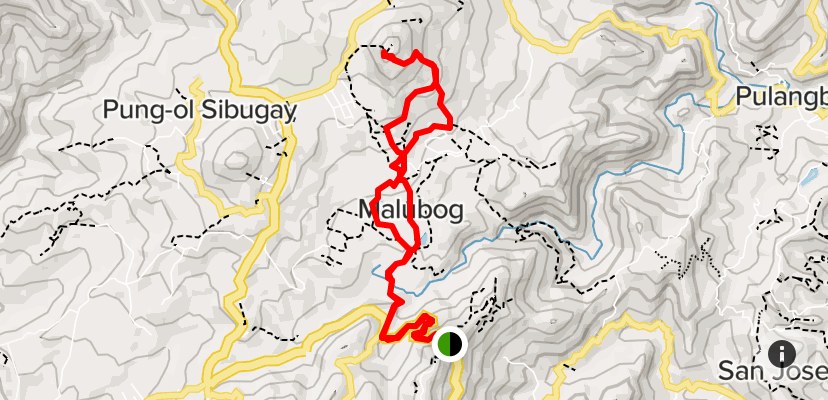 Budlaan to Mt. Kan-irag is approximately an 8-kilometer trail with an elevation gain of 692 meters. This is a beginner-friendly trail, and if you are new to hiking, I would recommend that you go visit and try the trail for yourself.
How to get there?
Take a jeepney going to Talamban and drop off at Gaisano. Just a few meters from Gaisano, in front of Sunny Hills Subdivision, habal-habal drivers (local motorcycles) are lining up. Tell the driver you are headed to Sitio Baugo in Budlaan, Cebu, and they will bring you to the trailhead drop-off site.
I was first able to climb Mt. Kan-irag in 2019, and I have been coming back since then. I have already climbed this trail five times and camped here twice.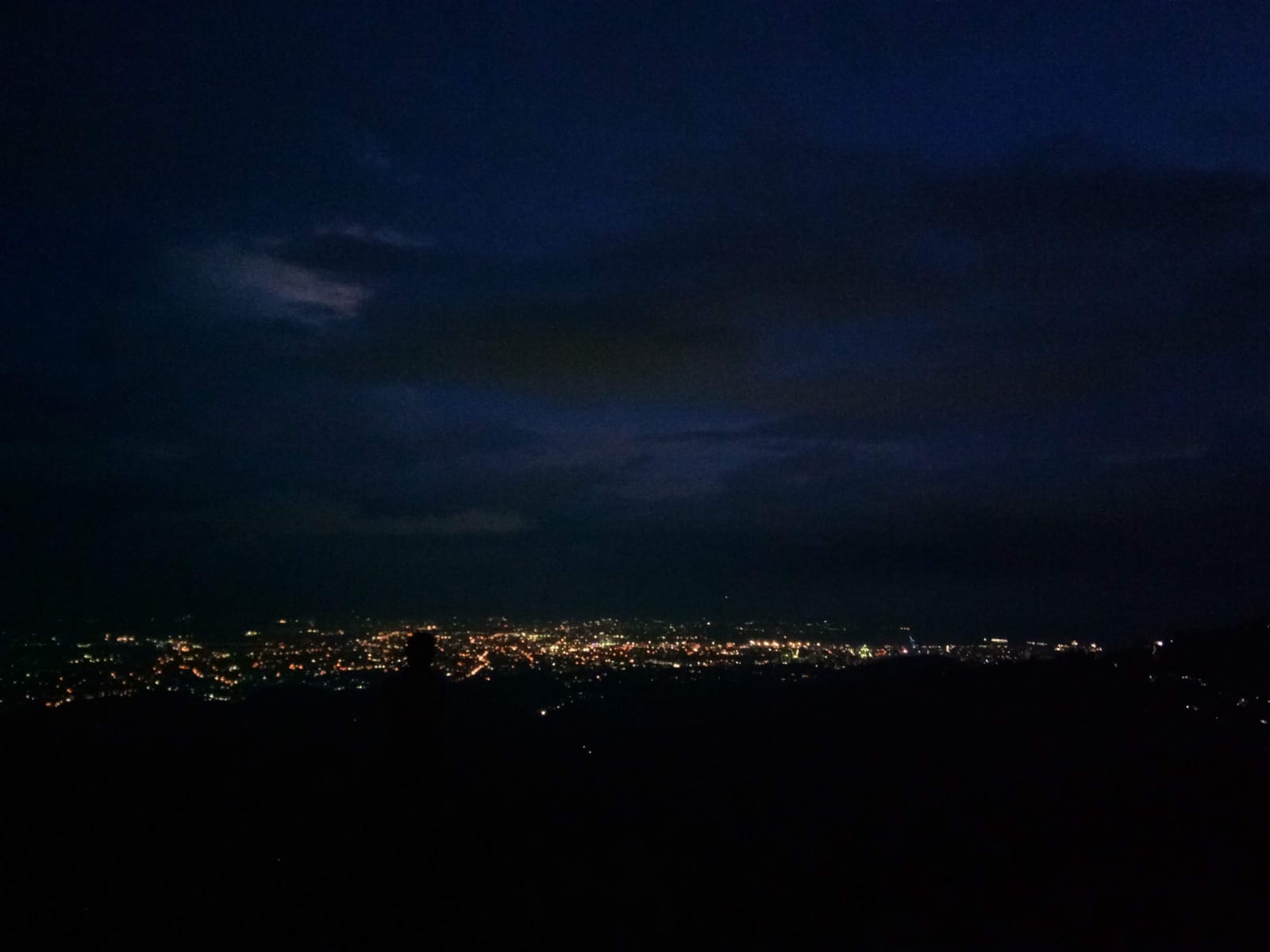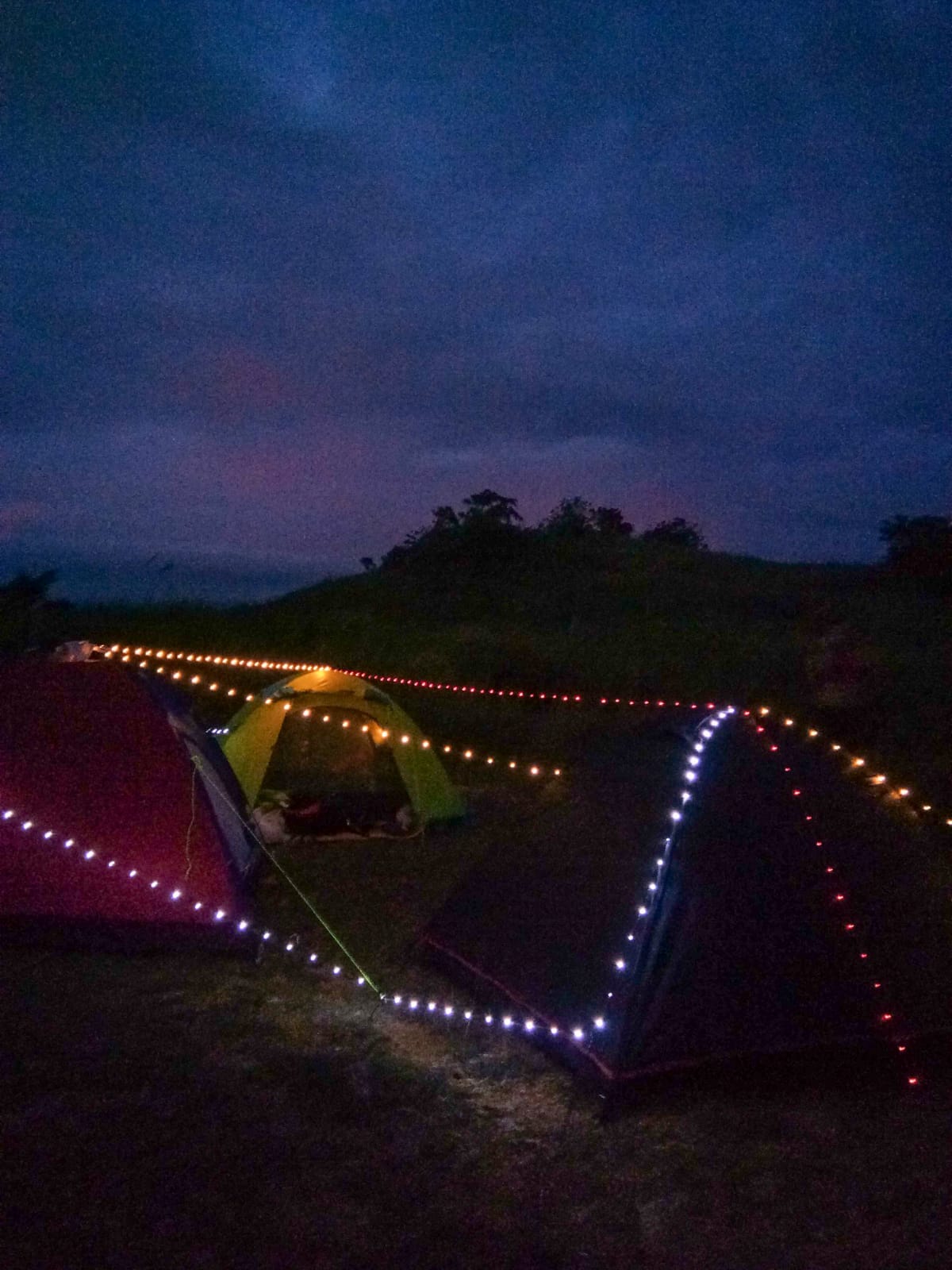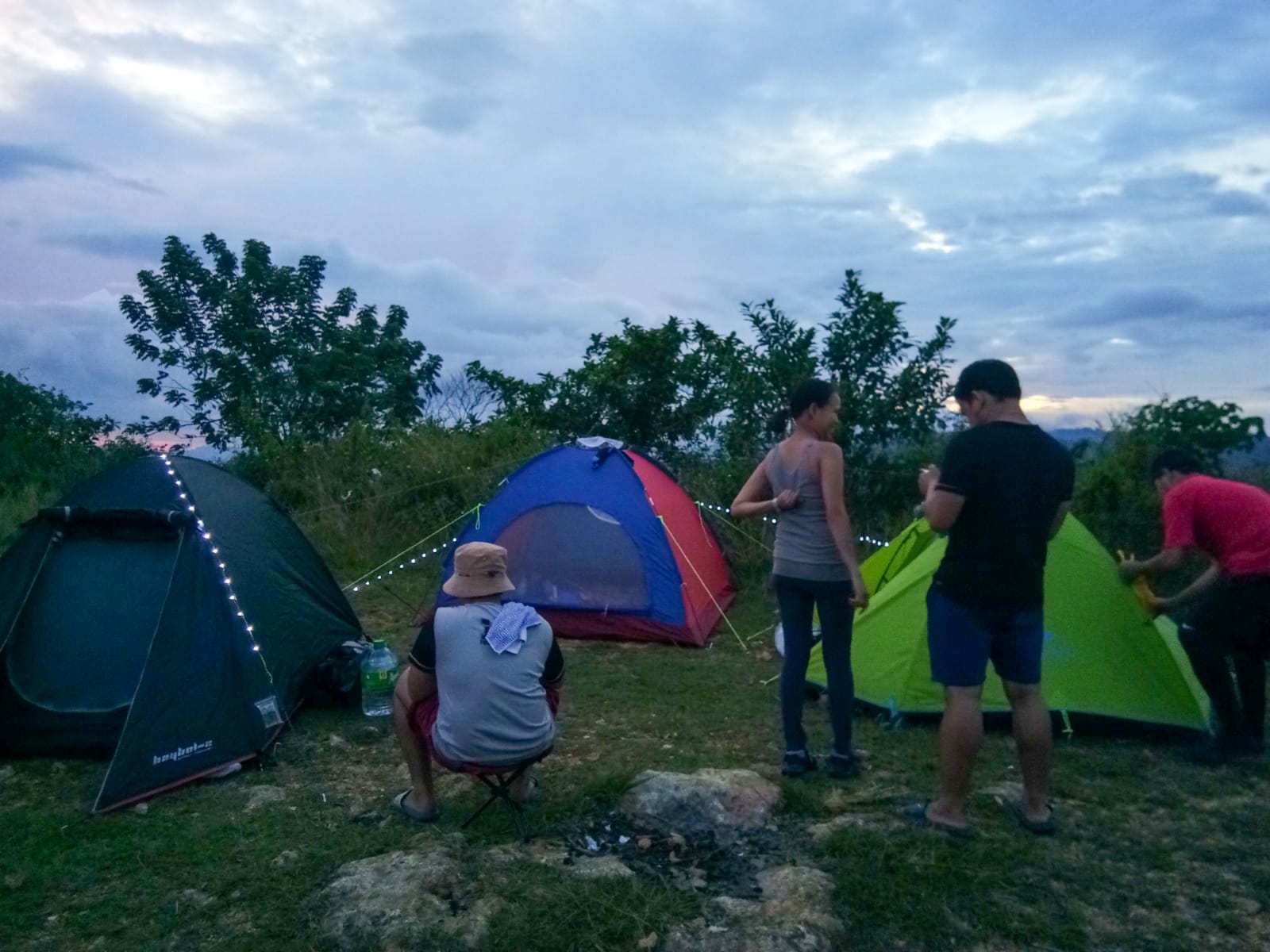 This is the view that will welcome you once you go camping in Mt. Kan-irag, although this picture was taken a little higher up Kan-irag, in Sirao Peak. Back then, we used to climb all the way to Sirao Peak, just above Mt. Kan-irag with over 700 meters above sea level; however, since the place is now privately owned, it has become restricted to hikers, and the camp site or trail would just end in Mt. Kan-irag.
---
I love the balance of this trail; it has a route that passes the river of Butuanon, where you will encounter big rock boulders; it's an equally challenging trail.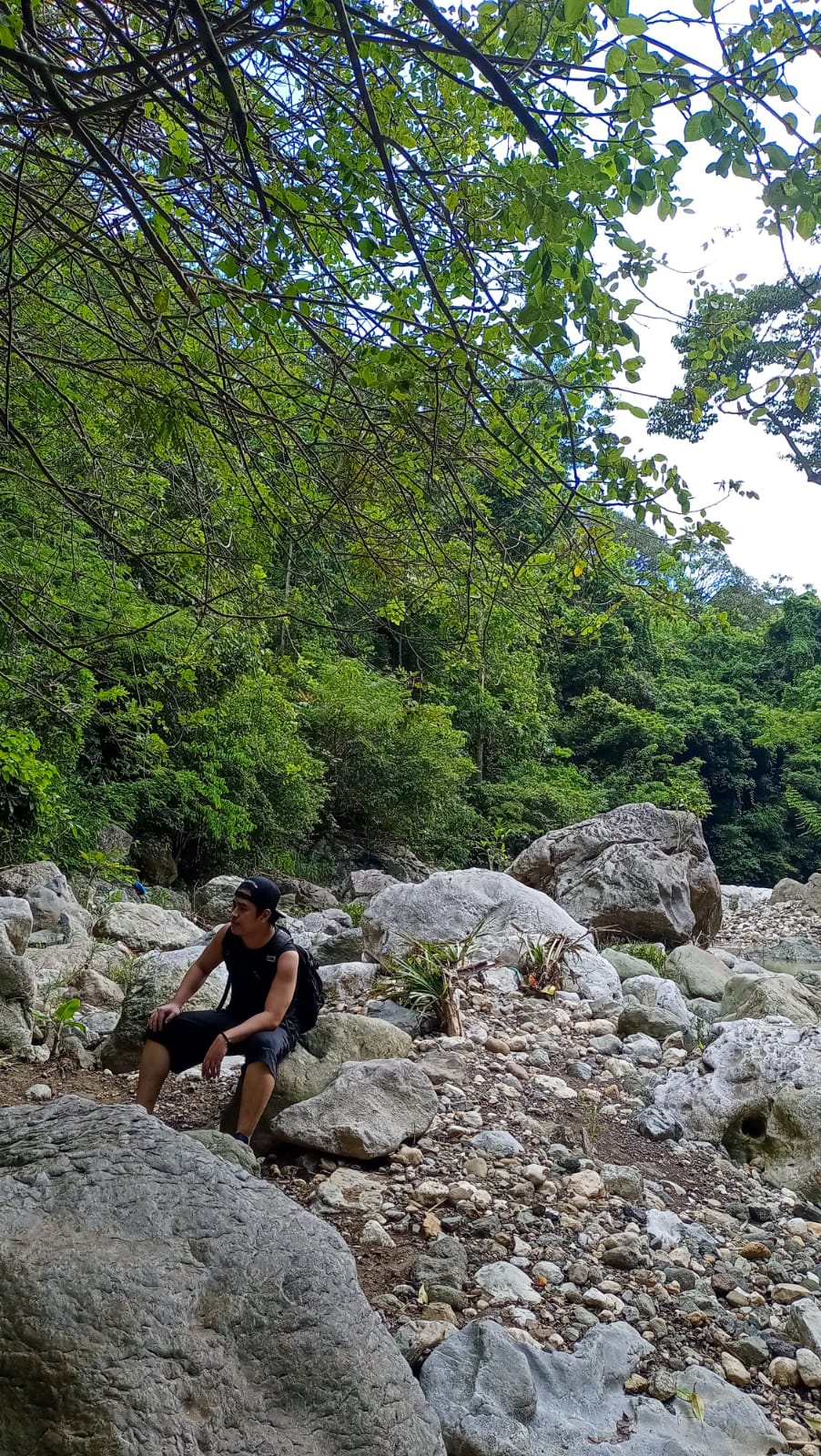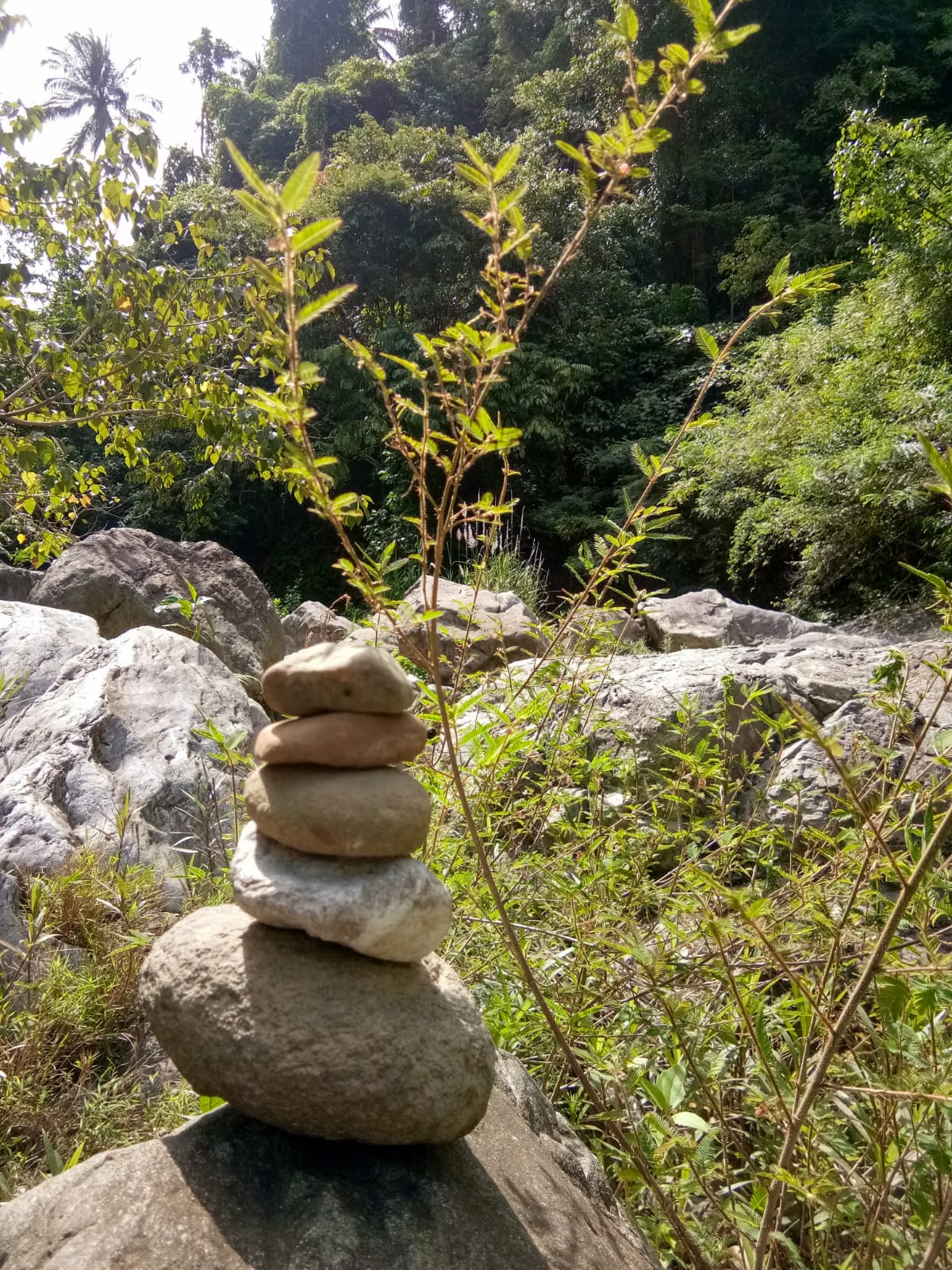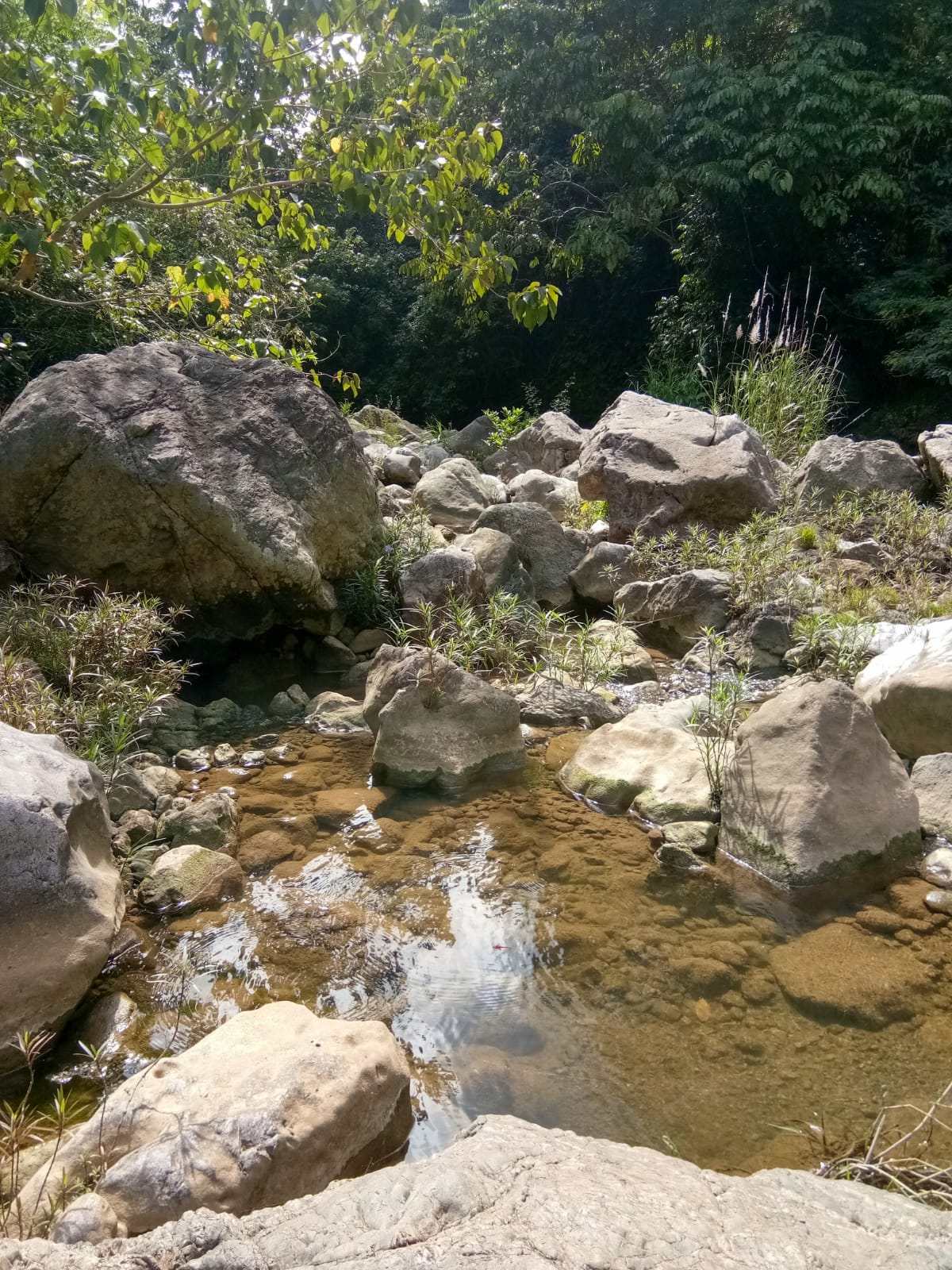 It also offers a view of the Budlaan Falls, and once you reach the falls, a sari-sari store is located there that serves fresh buko juice. What a good way to quench your thirst from the hike!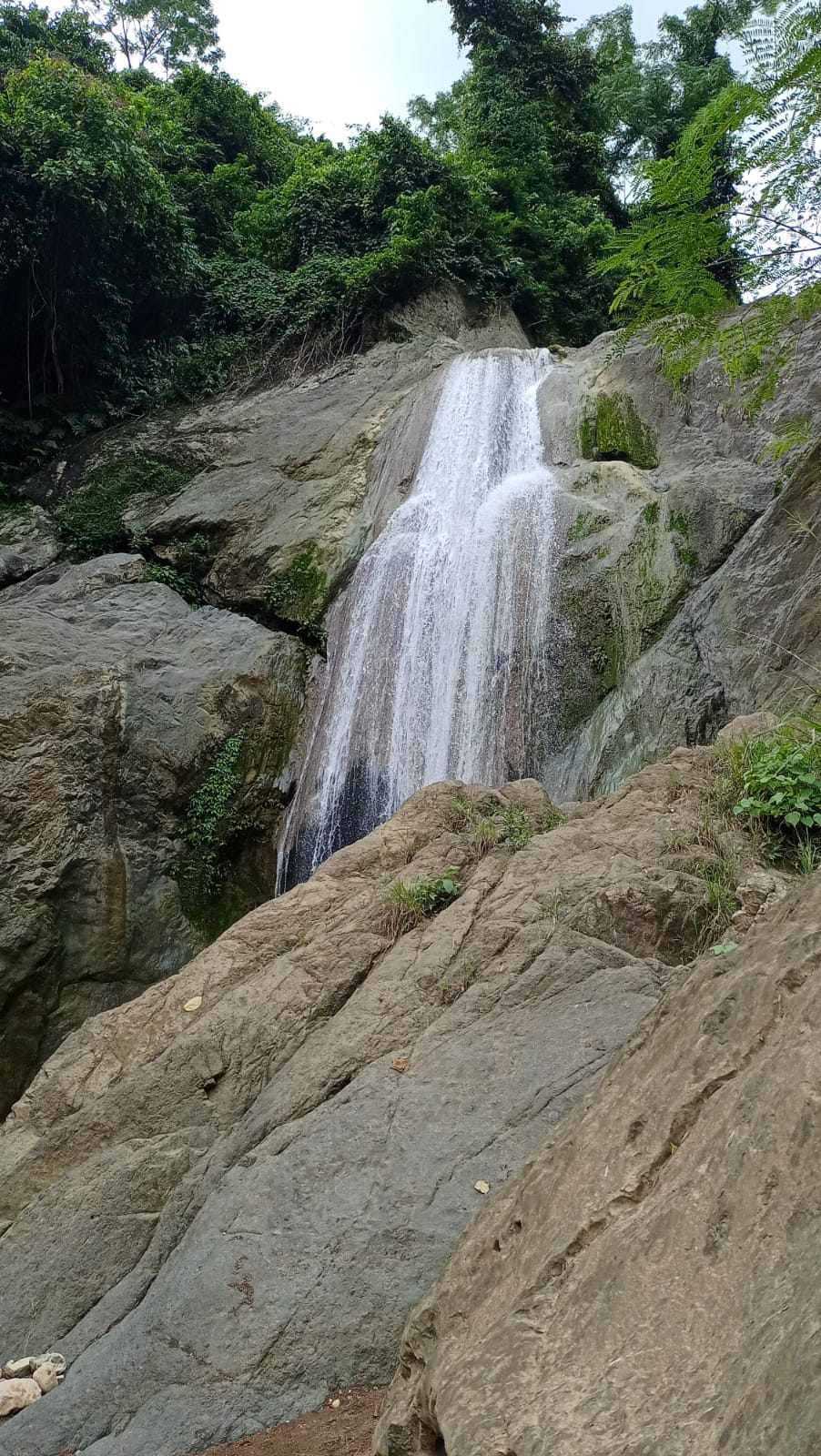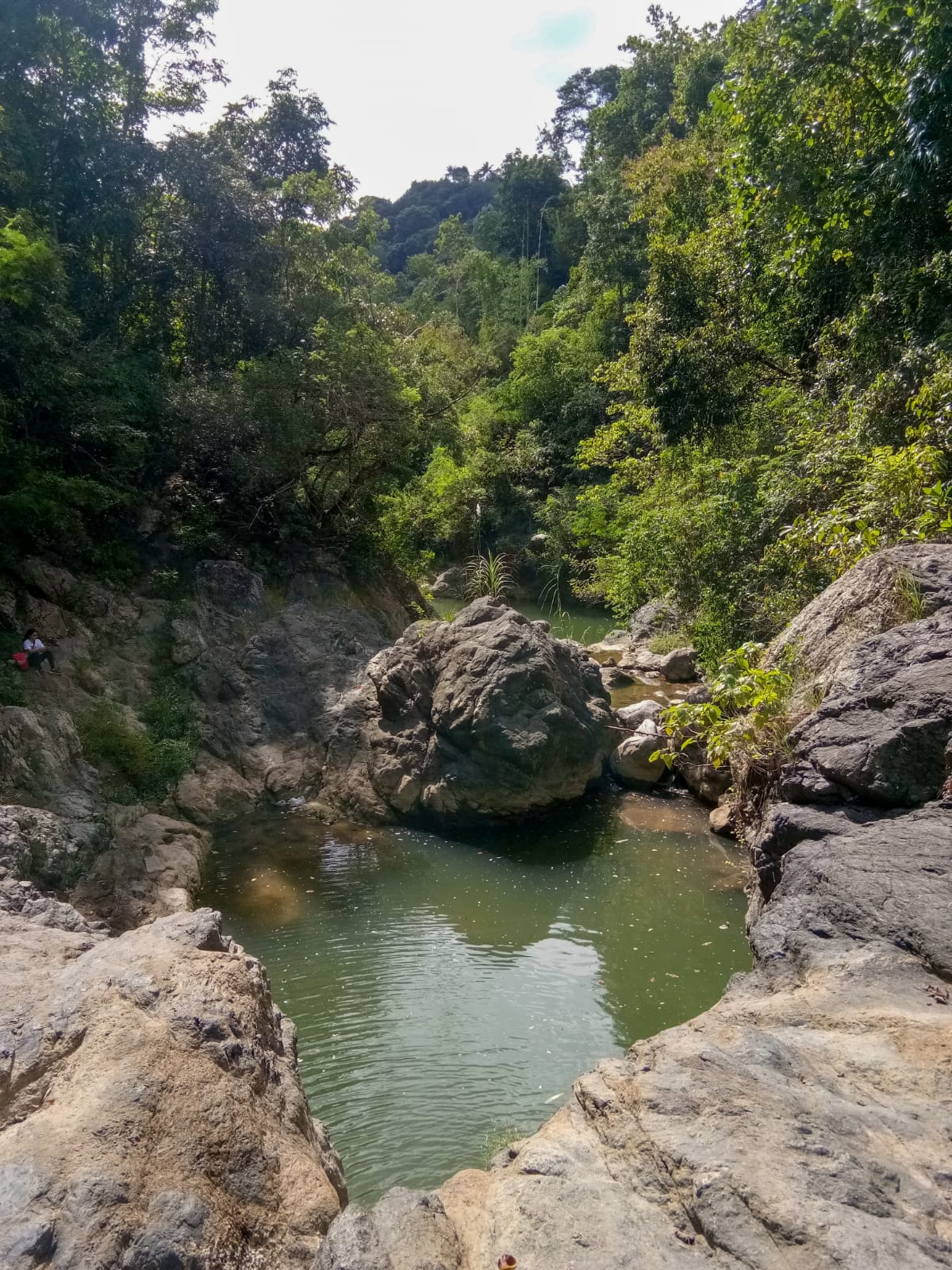 The heart shape pool, as my friend would describe it.
Once you pass Budlaan, the trail going to Mt. Kan-irag is mostly open with little to no shade but offers a vast view of green scenery that is pleasing to the eyes.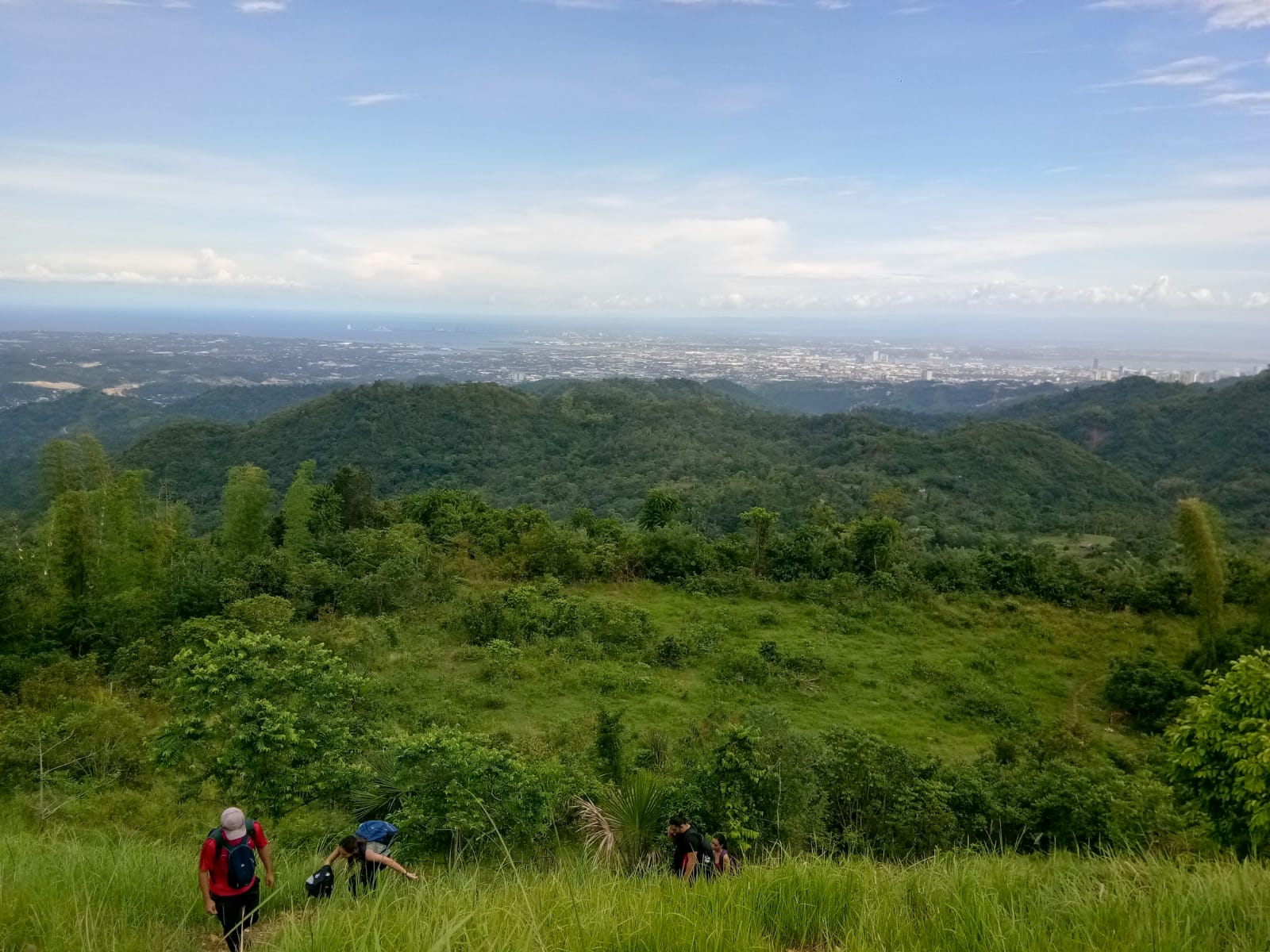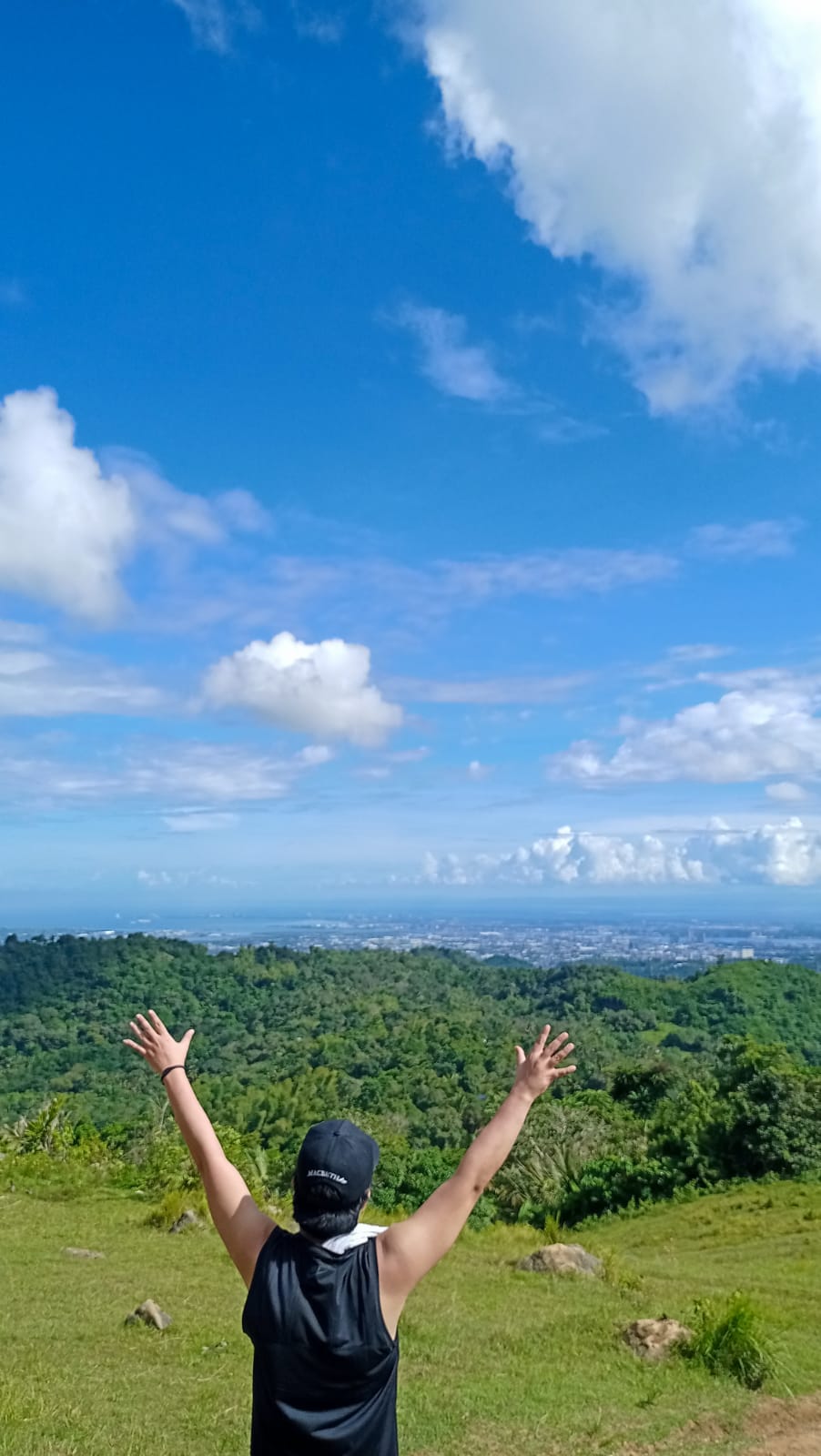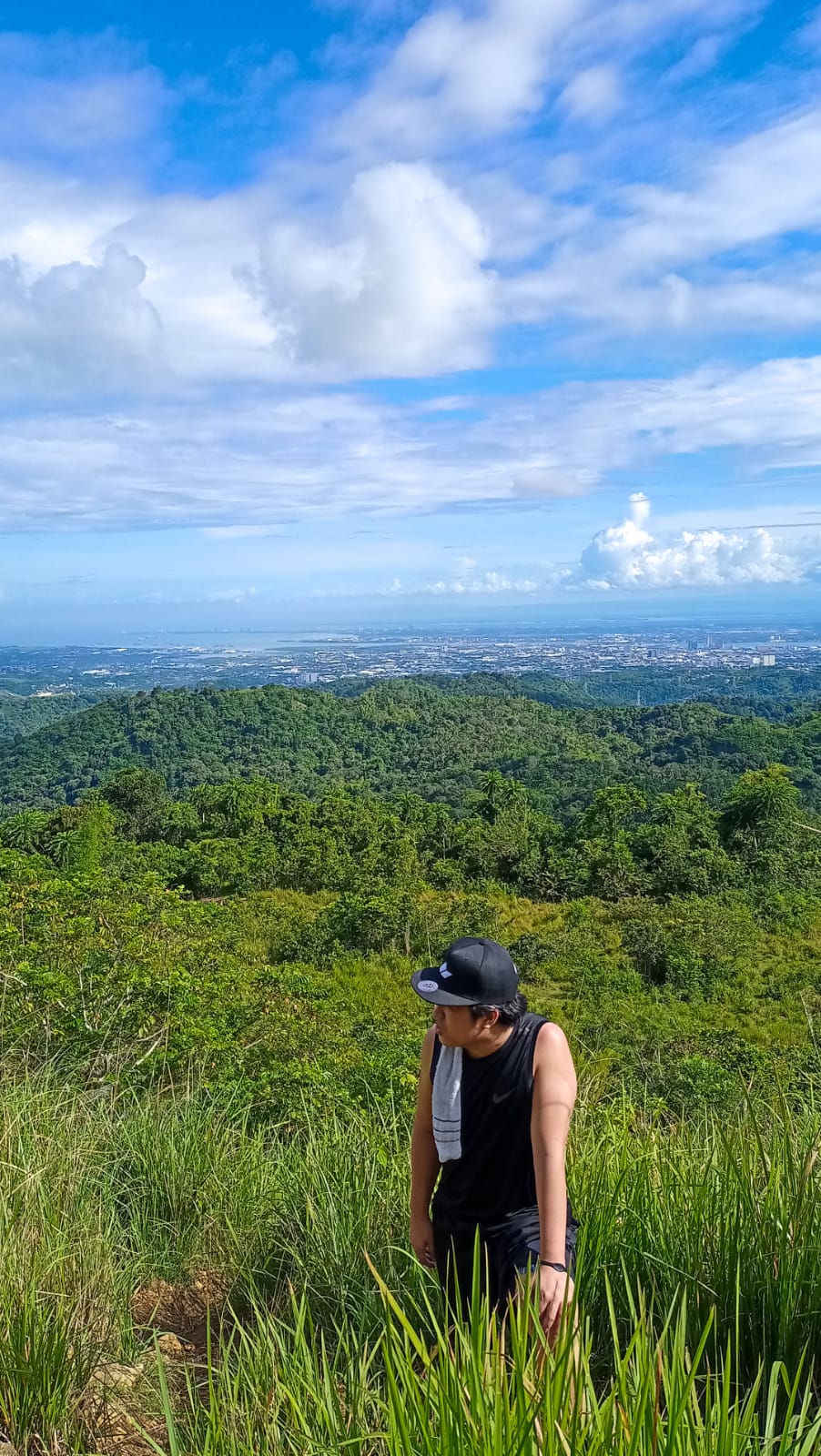 Planning to go on your first hike in Budlaan—Mt. Kan-irag?
Here are some guidelines.
It's best to go with someone who is already familiar with the trail; however, if you want to explore it on your own, tour guides are also available in Sitio Baugo for a fee, but most of them will only take you until Budlaan Falls; a different rate will be charged if you want to go all the way to Mt. Kan-irag.
How long is the trail?
Since the trail is 8 kilometers long one way, it really depends on your pace. Based on my experience, it usually takes at least 4 hours one way.
Where does the trail end?
There are 2 routes for the end trail: hikers can opt to go back on the same route going to Talamban, or they can ride another habal-habal from Ayala Heights (just below Mt. Kan-irag) going to JY Square in Lahug.
What should I bring?
Wear appropriate shoes. one with grippy soles or a hiking sandal. The boulders tend to be slippery.
Extra shirt, especially if you would like to take a swim in the waterfalls. Stay away from cotton as much as possible and opt for drifit clothes.
Water, at least 1 liter.
Trail food or snacks.
Make sure to bring some sun protection, like hats or sleeves, as the trail has a lot of open space.
Bring a mini First Aid kit (it's always good to be prepared).
---
Let the photos do the story telling
---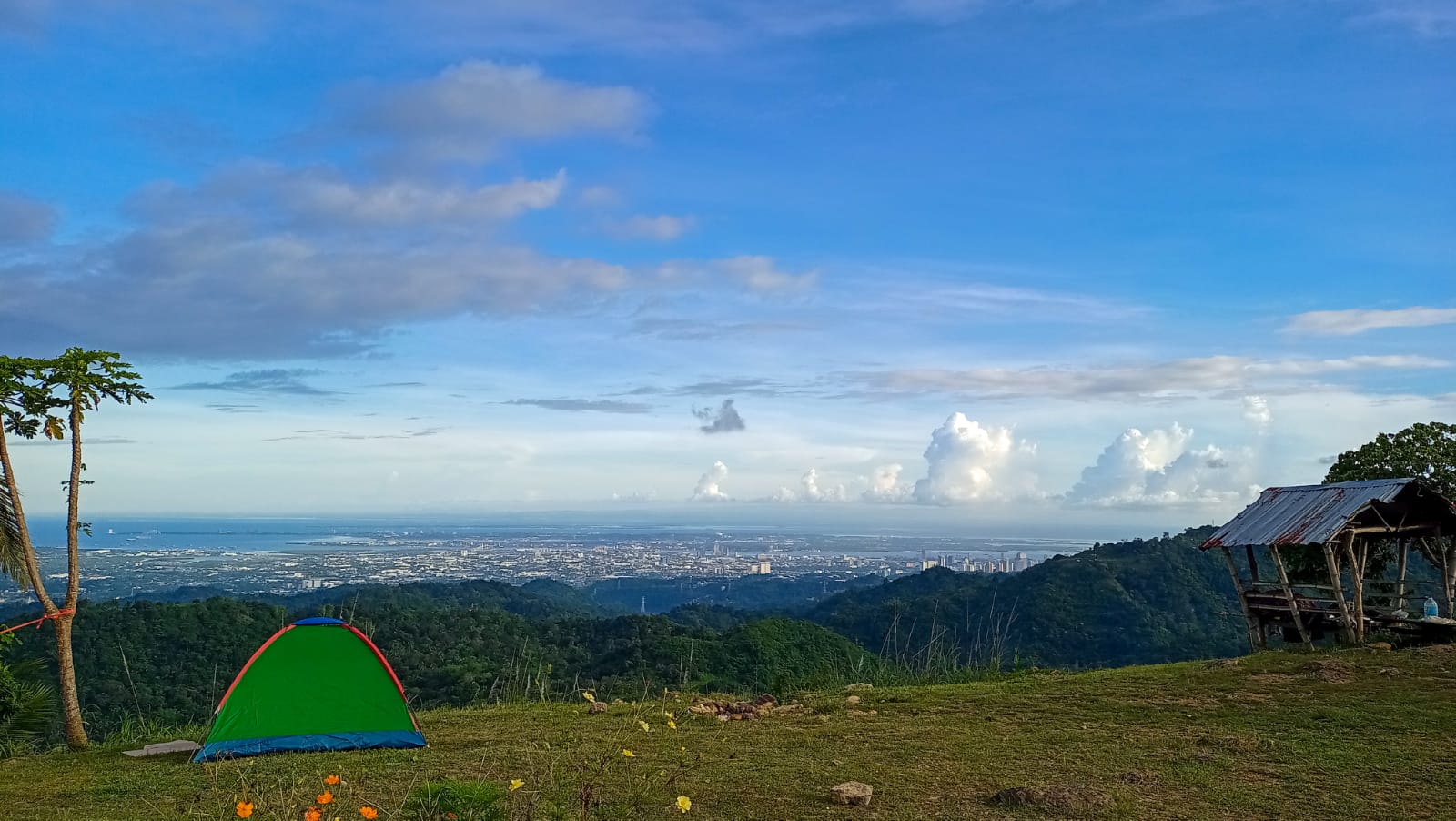 The view at Mt. Kan-irag Campsite.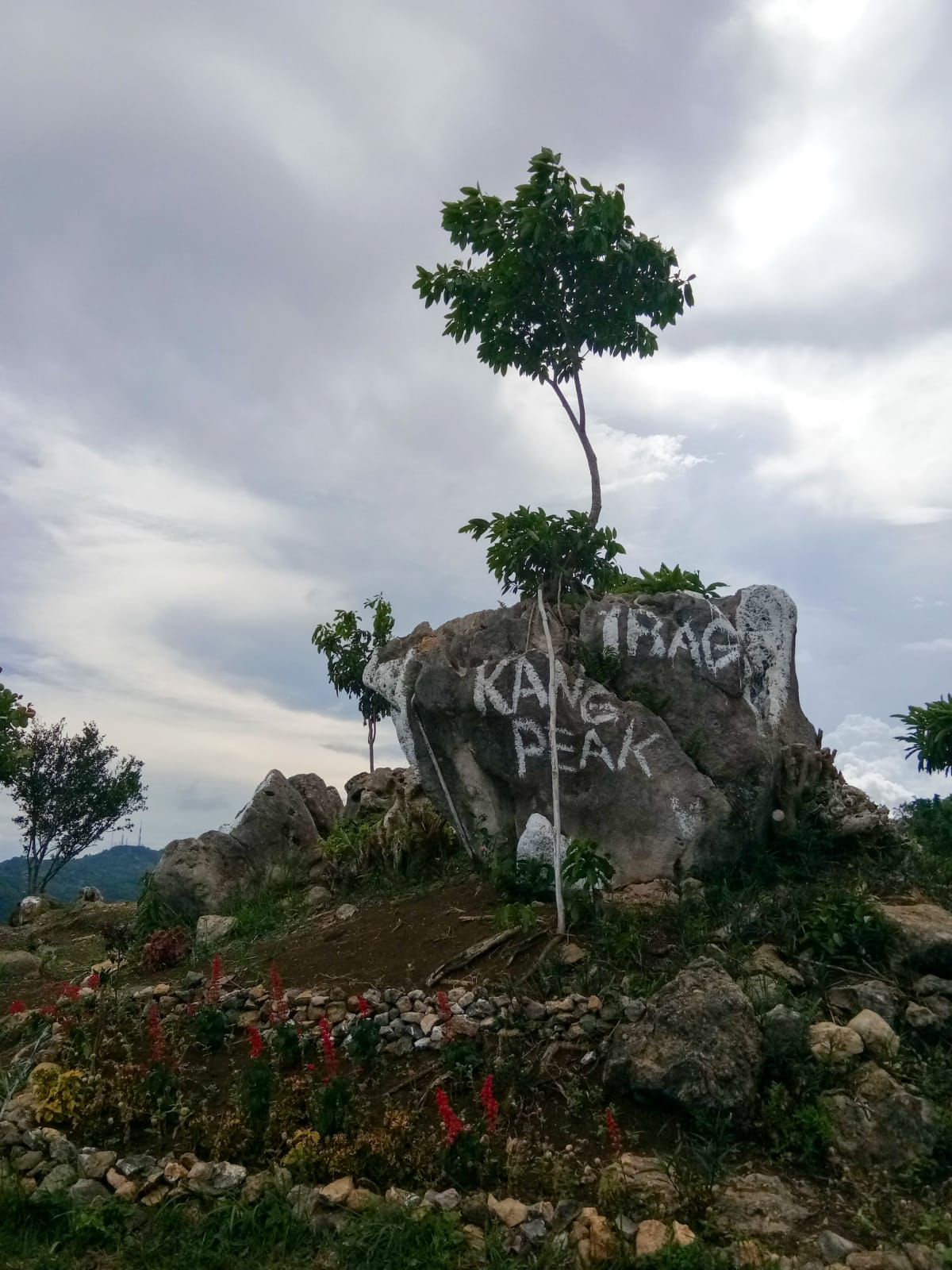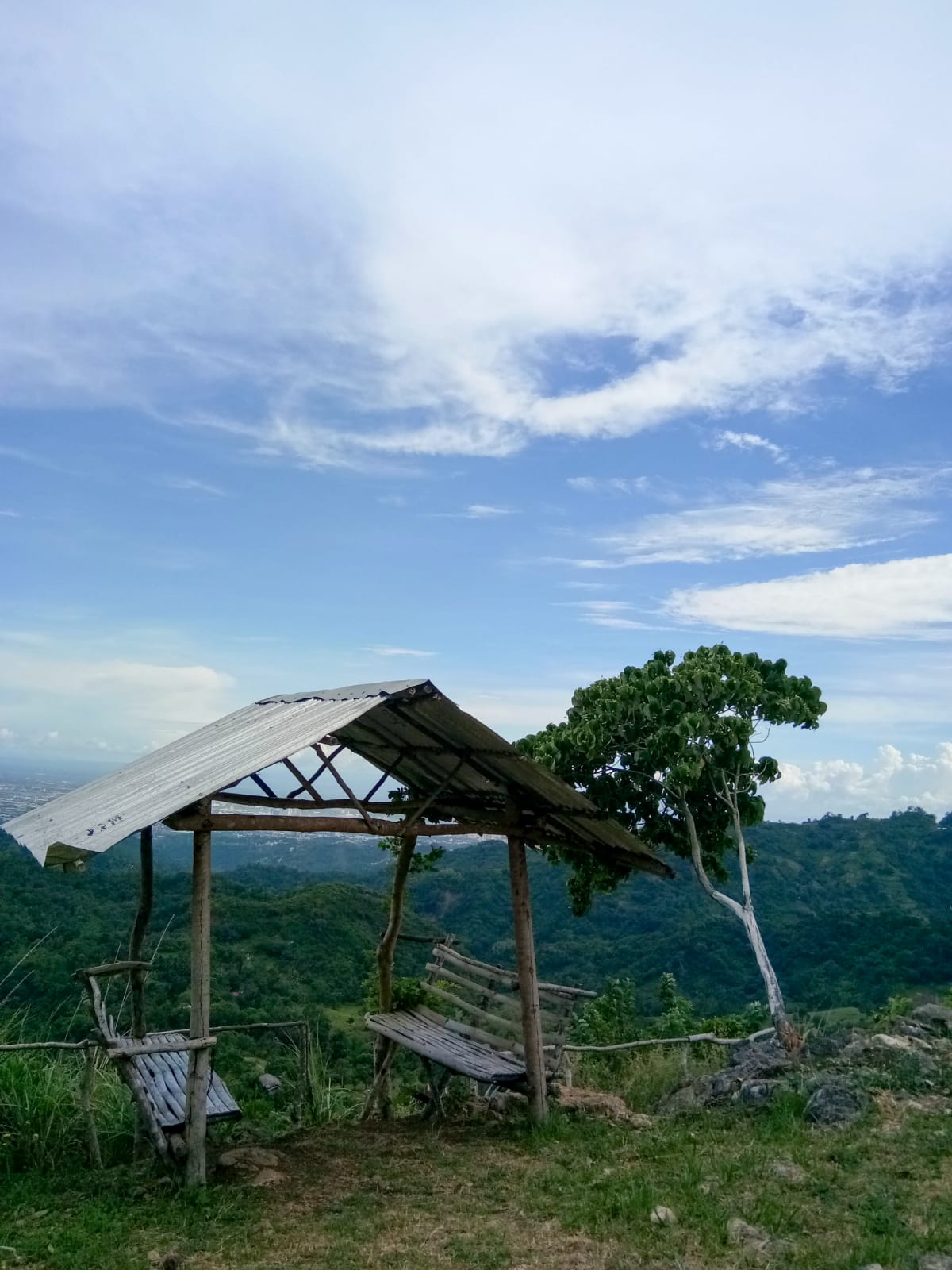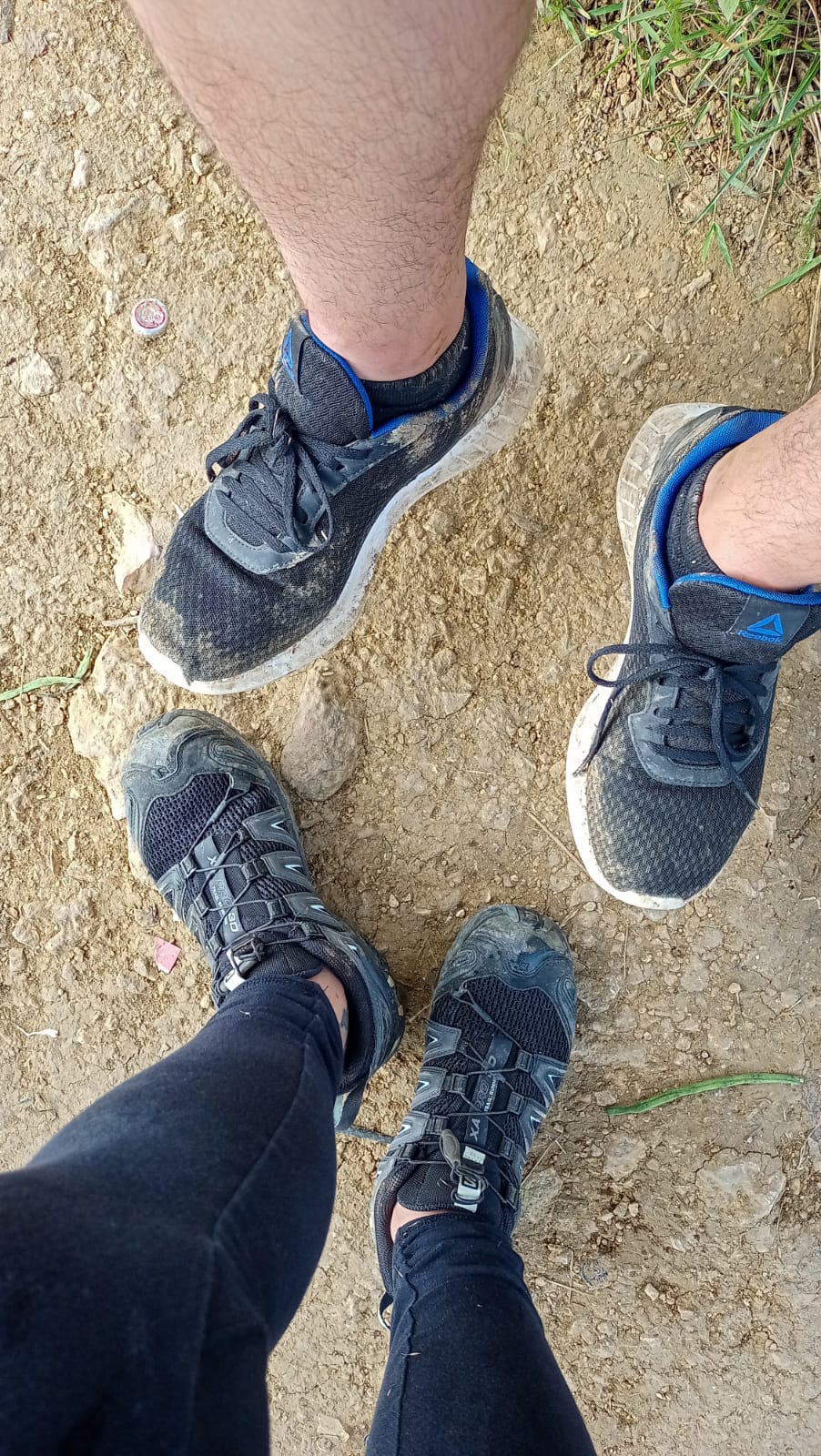 Dirty hiking shoes for me means a climb well done. 😅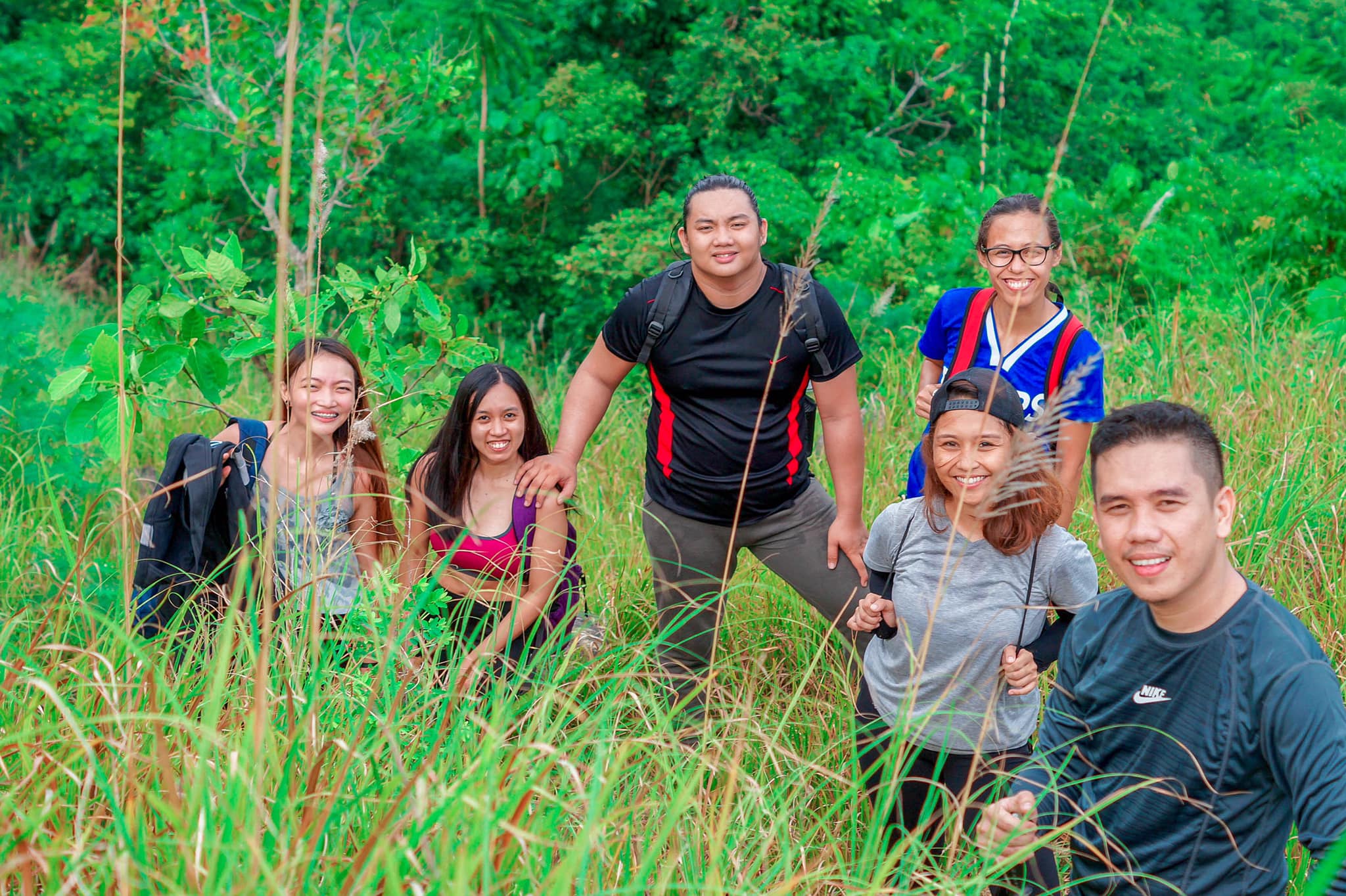 It's just amazing how hiking brings people together. Let me tell you a story behind this photo. The 3 youngsters behind us were not really part of our group, we just found them in the middle of the trail just pass the boulders in the waterfalls. They were lost and admitted that it was their first time on the trail and did not hire any guides.
We offered that they join us instead all the way to Mt. Kan-irag, and that was it, strangers turn into friends and they even join another hike with us on a different day.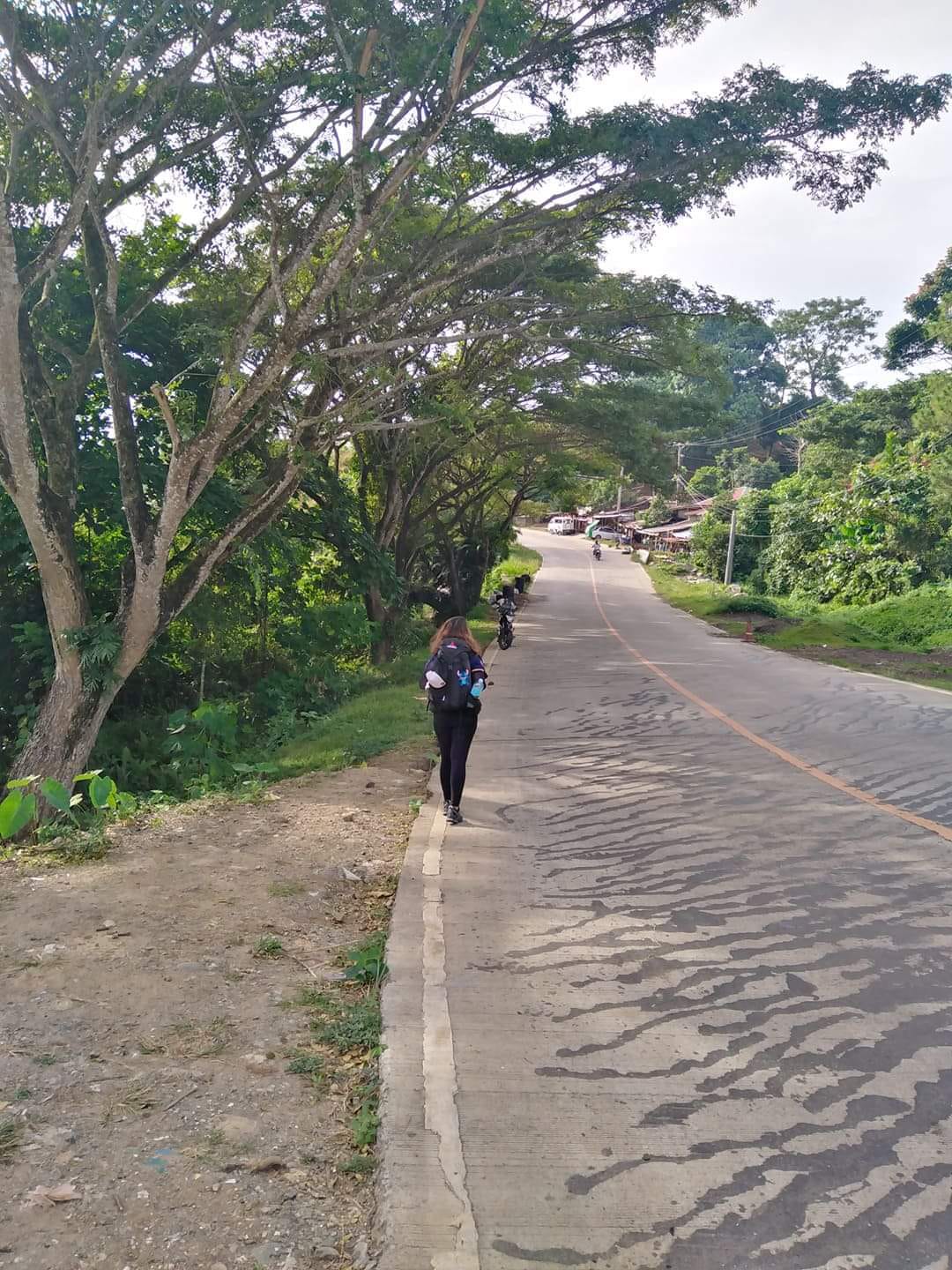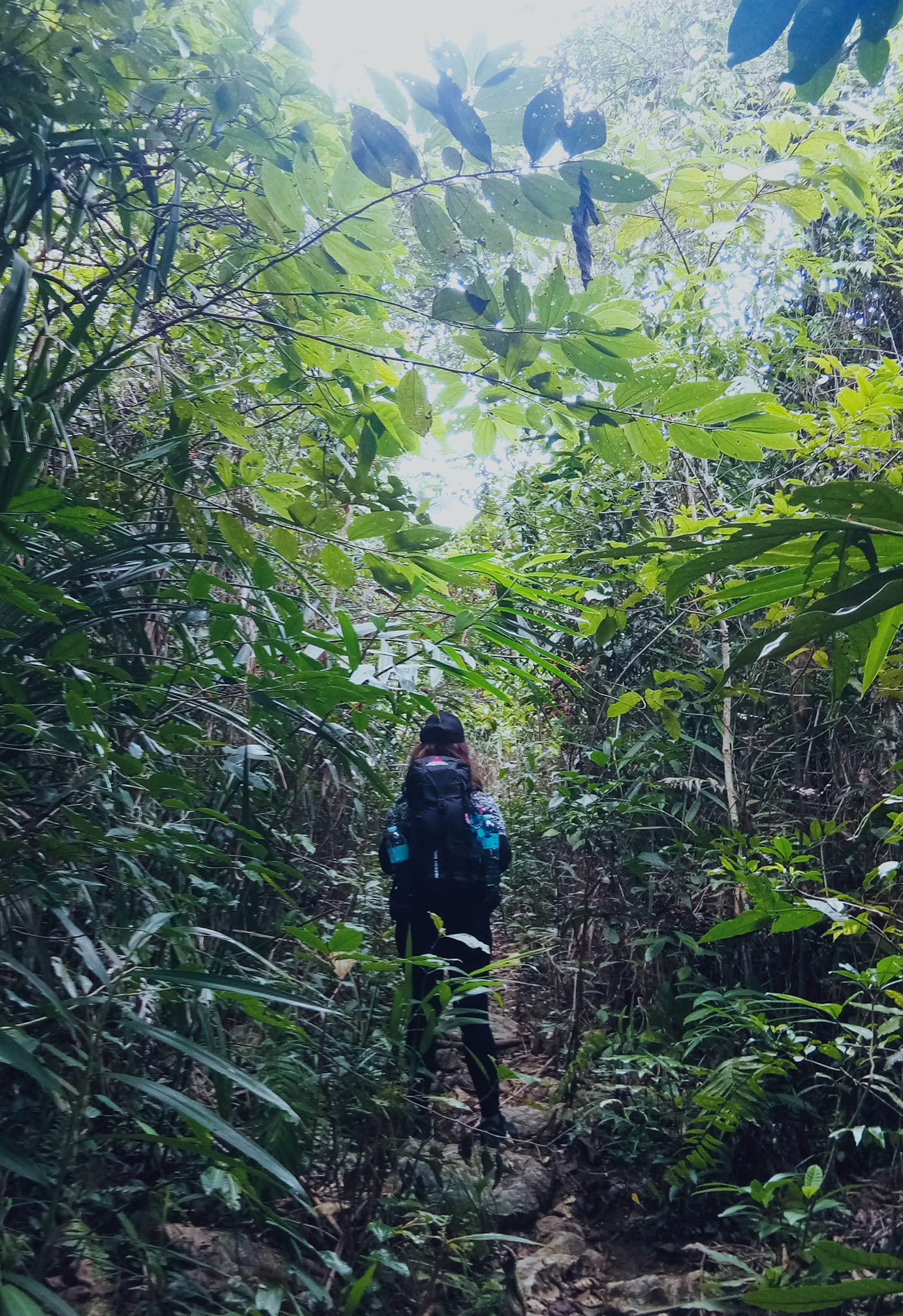 Here's a photo of me on the left, walking along ayala heights after a night of camping and the other one is in the middle of the trail.
When I go camping, I usually carry a 12L hiking bag which fits a sleeping bag, extra clothes, some food, water and other essentials.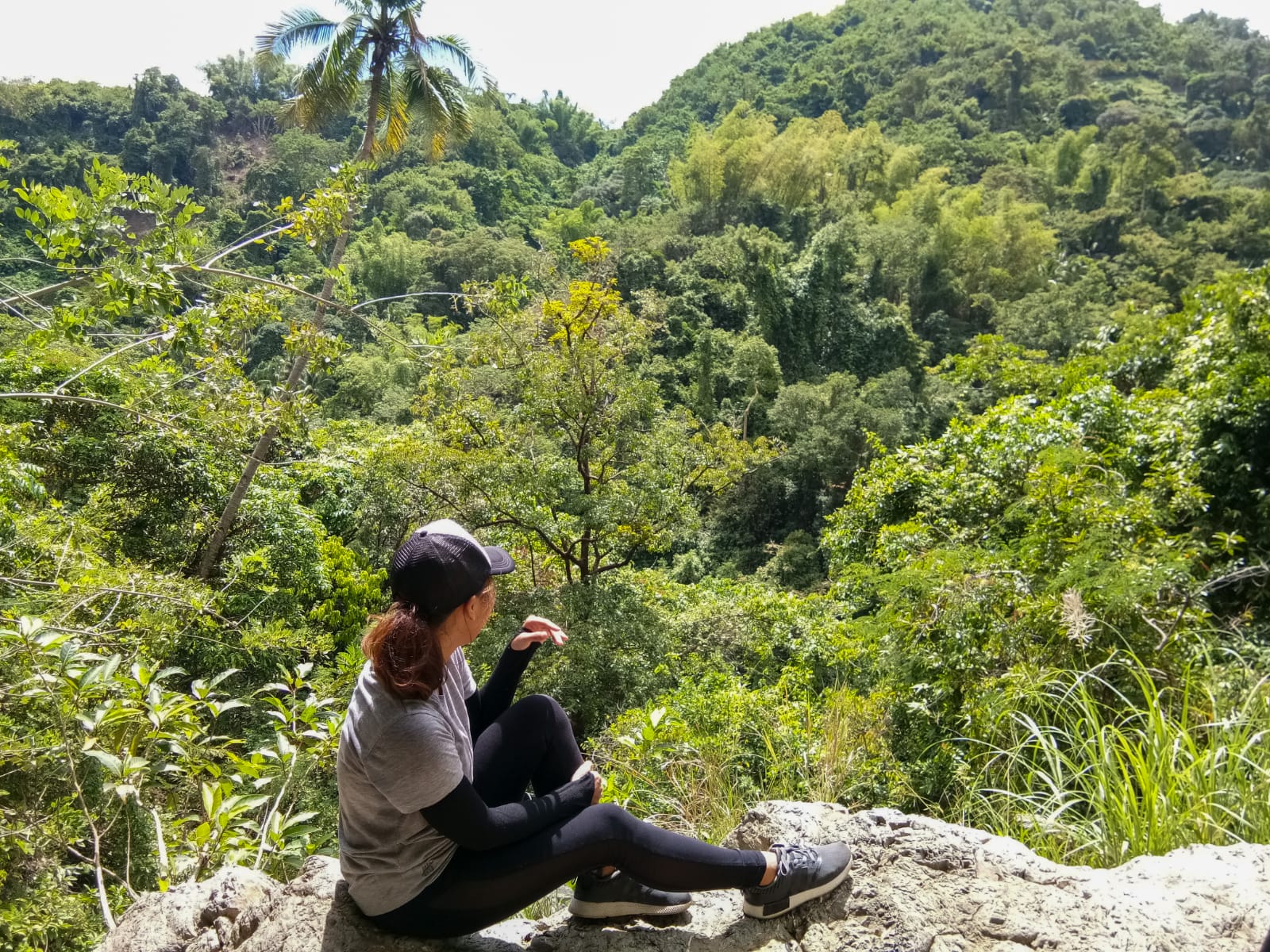 I'm the happiest when I'm out hiking. Others may find it exhausting, walking for hours under scorching heat of the sun, going through assault hikes but for me it's the opposite. I feel calm and relaxed.
Somebody once asked me what's on my mind while hiking.
Peace of Mind, I answered.
Which is true, I find peace whenever I hike, It clears my mind when everything is so overwhelming and you just need a breather.
Being with nature keeps me grounded. It makes you appreciate all the simple things in life. No extravagant things, no luxury, just you under the sun - Enjoying everything that the universe has to offer.
I hope you will also find things that will keep your fire burning. See you on the trail soon!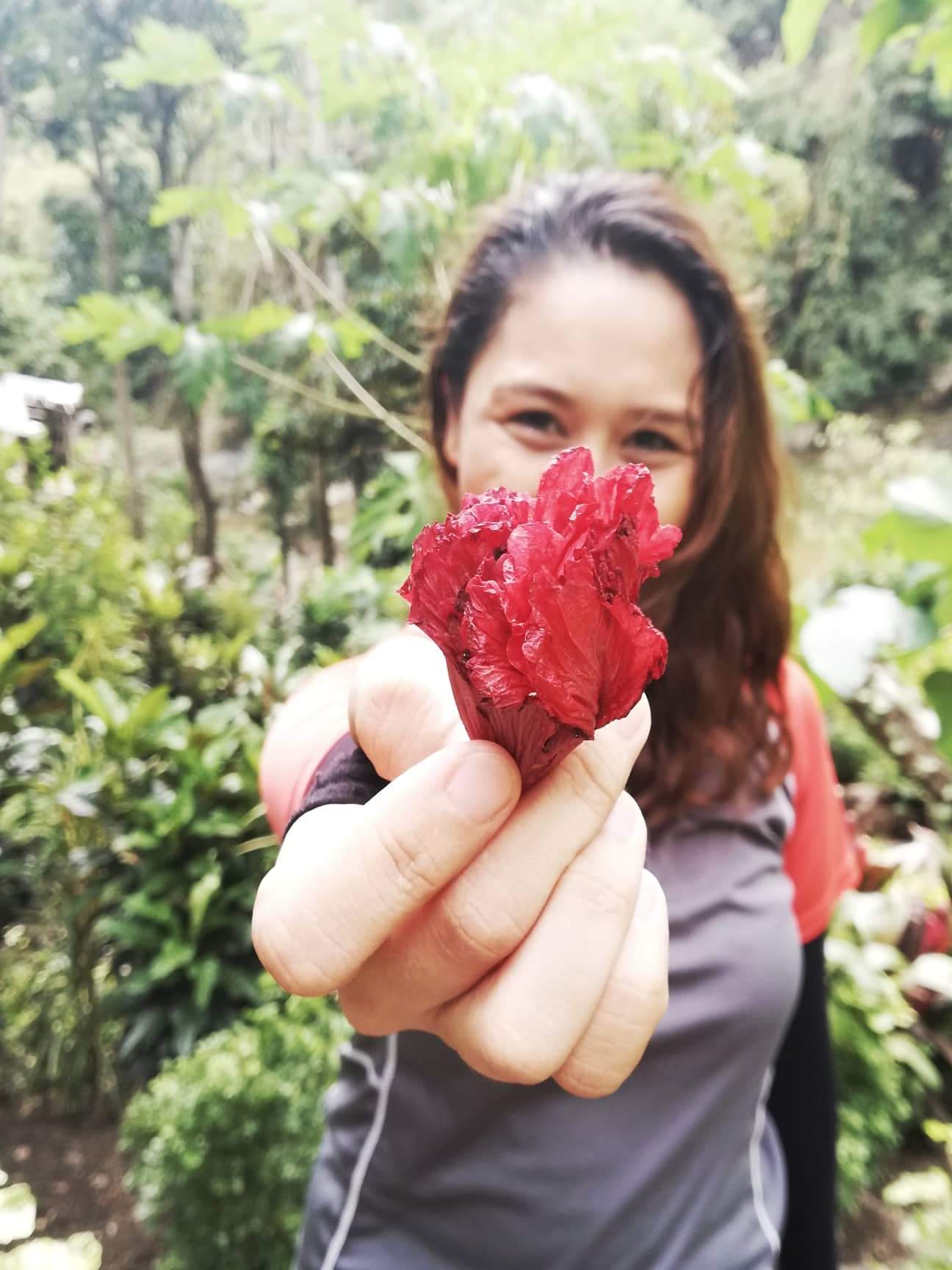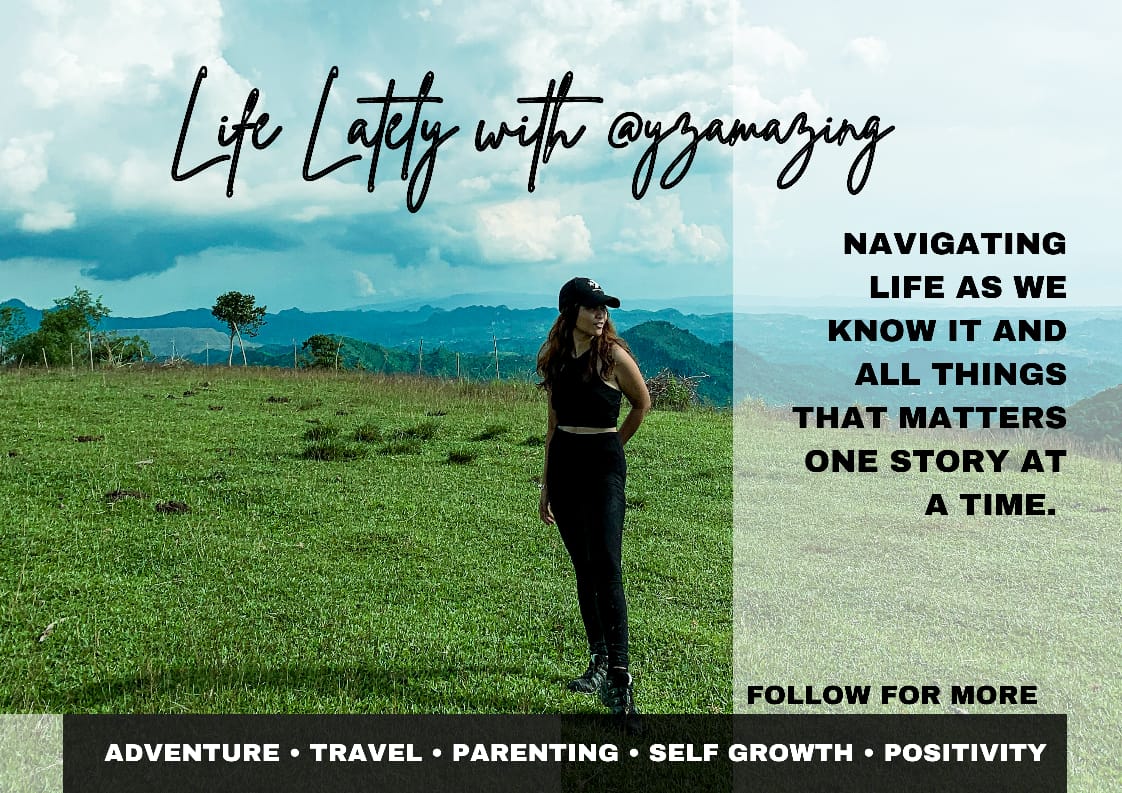 Ma. Morena
is a nature enthusiast, an optimist and outgoing person who loves turning her adventure and thoughts into writing.
Liked what you read? show some love by sharing your comments and upvote the content. Feel free to re-blogged the post and help spread positivity by paying it forward. Don't forget to follow her for more stories and adventures here on Hive.

---
All photos were taken and edited by me unless stated otherwise. Images may have been shared to my social media accounts prior posting to the blog.
---