Eastern Samar's Jaw Dropping Cenote - Linao Cave
Hello Friends, ready for another travel story? Pump that adrenaline as this is for our adventurous friends out there. One might need to go through a series of obstacles before you get to see the enchanting beauty of this must visit place.

My Hometown, Guiuan Eastern Samar is located in the southernmost tip of Samar Island. Known not only for it's contribution to history, it is now slowly making it's way as one of the must visit places in the Philippines.
ғᴏʀ ᴛᴏᴅᴀʏ's ᴇᴘɪsᴏᴅᴇ, ɪ ᴡᴀɴᴛᴇᴅ ᴛᴏ sʜᴏᴡᴄᴀsᴇ ʟɪɴᴀᴏ ᴄᴀᴠᴇ.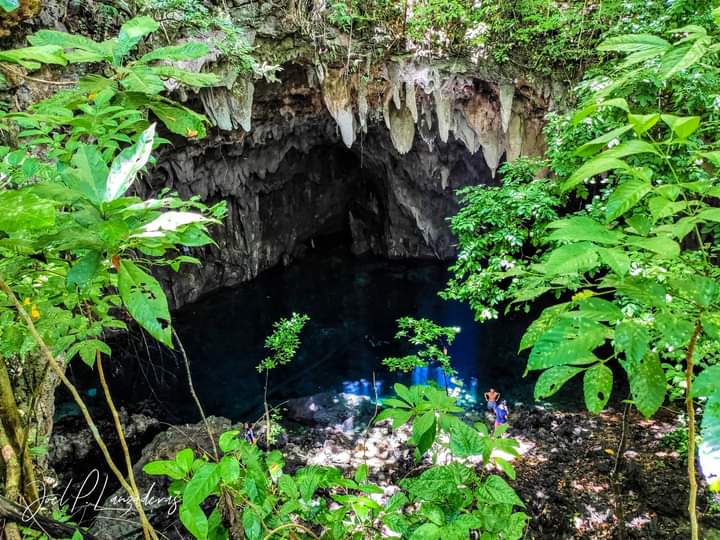 ---
Above Photo from Joel Lanzaderas
of Talapang Photography.
Talapang Photography is a commission page based in Guiuan for your photo shoot needs.
---
Linao Cave is located in Brgy. Sulangan, Guiuan Eastern Samar.
Did you know that this type of cave is actually categorized as a Cenote which is pronounced
as "seh-no-tay". It is a natural sinkhole where the ceiling of the cave has collapsed forming this amazing underground pool-like-caves as we know it.
Linao Cave is a semi-open cenote where you can see that it has some parts that are exposed while the rest is hidden by the cave. On the inside, you can view the stalagmite and stalactite formations.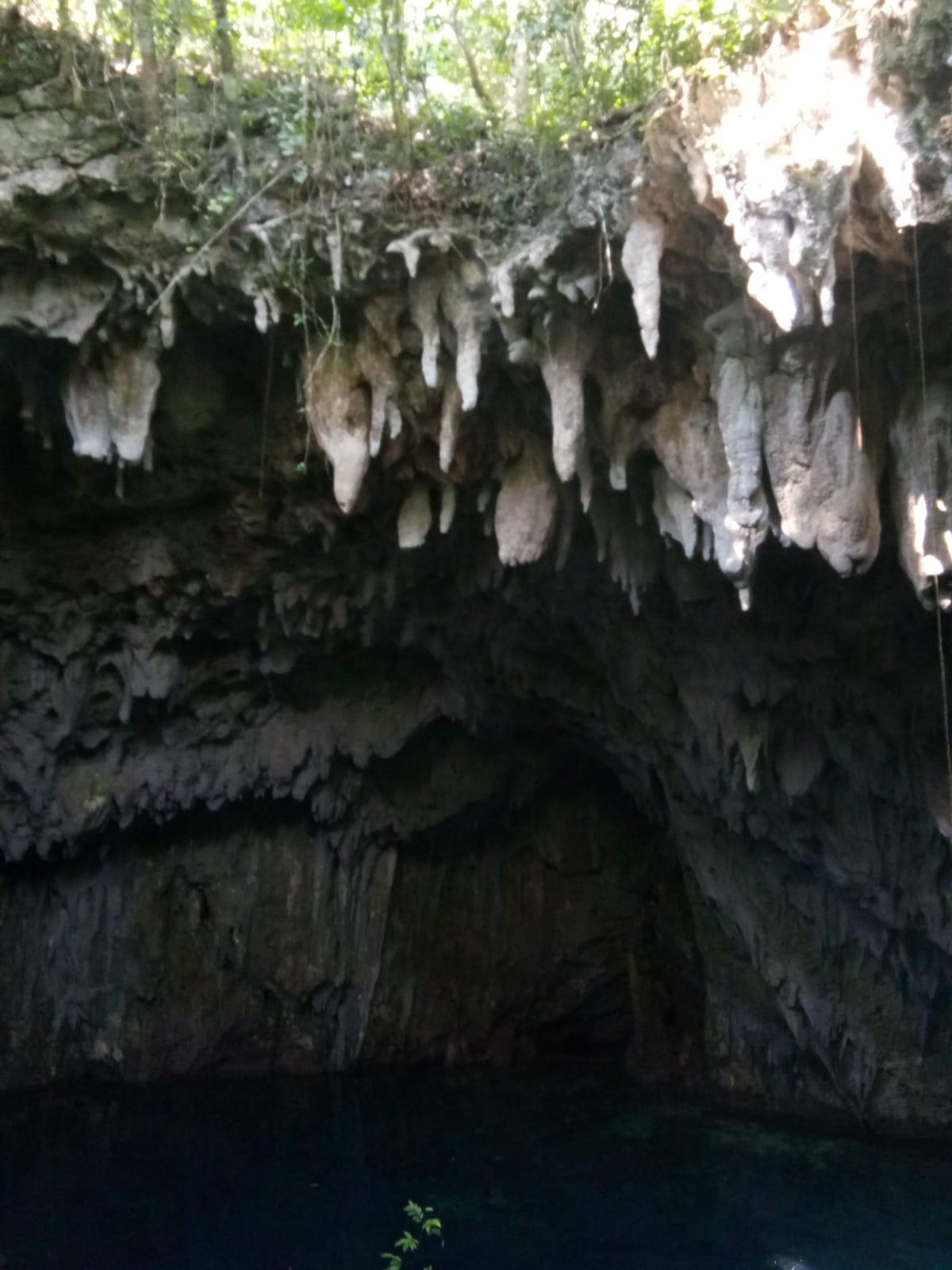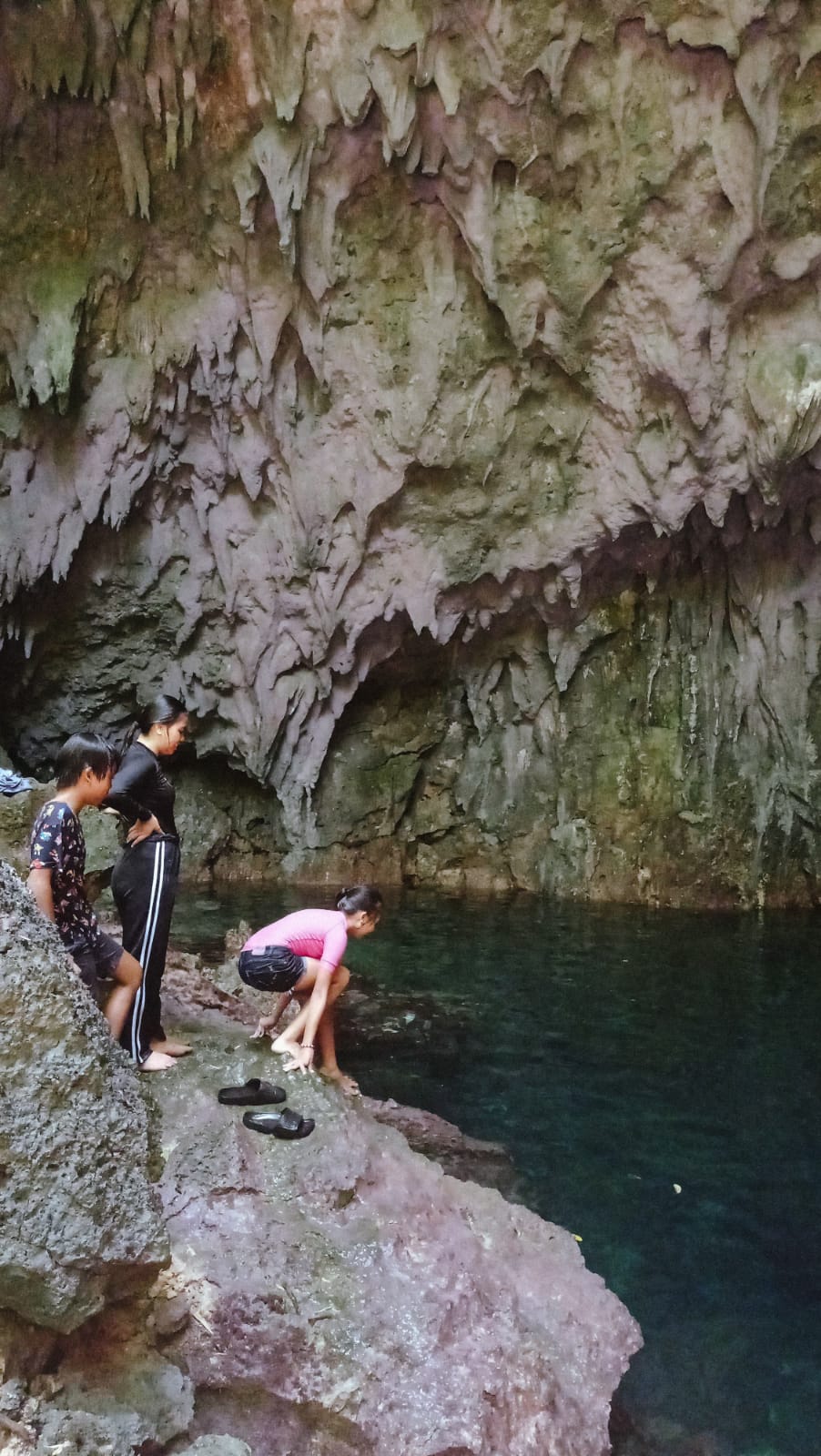 Natural architecture featuring the caves stalactites. The water in Linao Cave is cold and refreshing.


Photos taken from our last visit to Linao with my family.
---
Linao
- is a waray-waray word for clear. It best describes the water inside the cave. It's so clear that you can see the cave floor below but mind you, it's quite deep so better bring a life jacket or floater if you are not a good swimmer.
Since this enchanted place is gaining it's fair share of popularity among local and international tourist, The cave has been temporary closed to the public while Guiuan's Local Government is working with DENR (Department of Environmental and Natural Resources) to set up policies to ensure protection and conservation of the place.
As a Tourism Graduate, I totally support my hometown's move to prioritize and ensure sustainability of the place. It's our obligation to protect our natural resources and be a responsible traveler. The Tourism Industries goals should aim more towards EcoTourism.
So while we are waiting for the Cave to re-open it's doors once again to explorers like you and me. Let me give you a teaser and take you on a virtual tour on what to expect and what to look forward to when you get here.
---
ᴅʀᴏᴘ ᴏғғ ᴘᴏɪɴᴛ
Even if you are not familiar with the place, you wont get lost trying to find where Linao is located. There is a signage along the high way that will point you to the drop off site. The cave is also just a few kilometers away from the Calicoan Surf Camp - Home to the annual Odyssey Waves National Surfing Competition.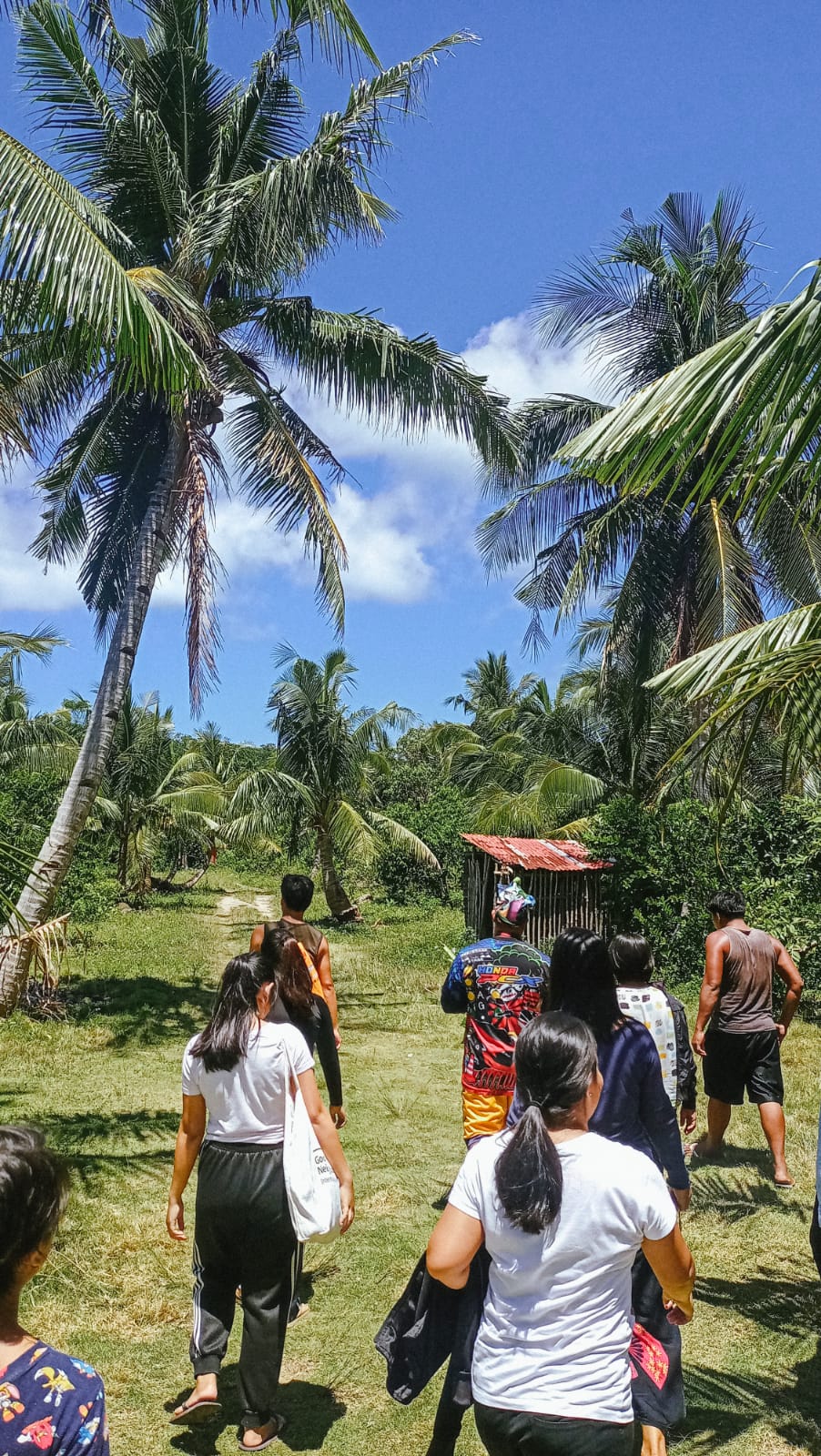 Upon entry, you will need to log into the guest record book and pay the entrance fee worth 25.00 each. You can also have the option to hire a guide from here to assist you with your belongings and provide help in entering the cave specially when you get to the entrance which I must say is the most challenging part.
---
ᴀ ᴡᴀʟᴋ ᴅᴏᴡɴ ᴛʜᴇ ᴛʀᴀɪʟ
And now, let's take a good 20 minute walk or so through the woods. Don't worry, even without a guide you wont get lost. Just follow the trail, it's well maintained and visible.
Back in the days, when only a few locals knew about this place there was no obvious trail in here. The place was fill with tress and plants all over, it was a legit walk through a forest where one might get lost without a proper guide. My first time visiting Linao Cave was way back in 2011.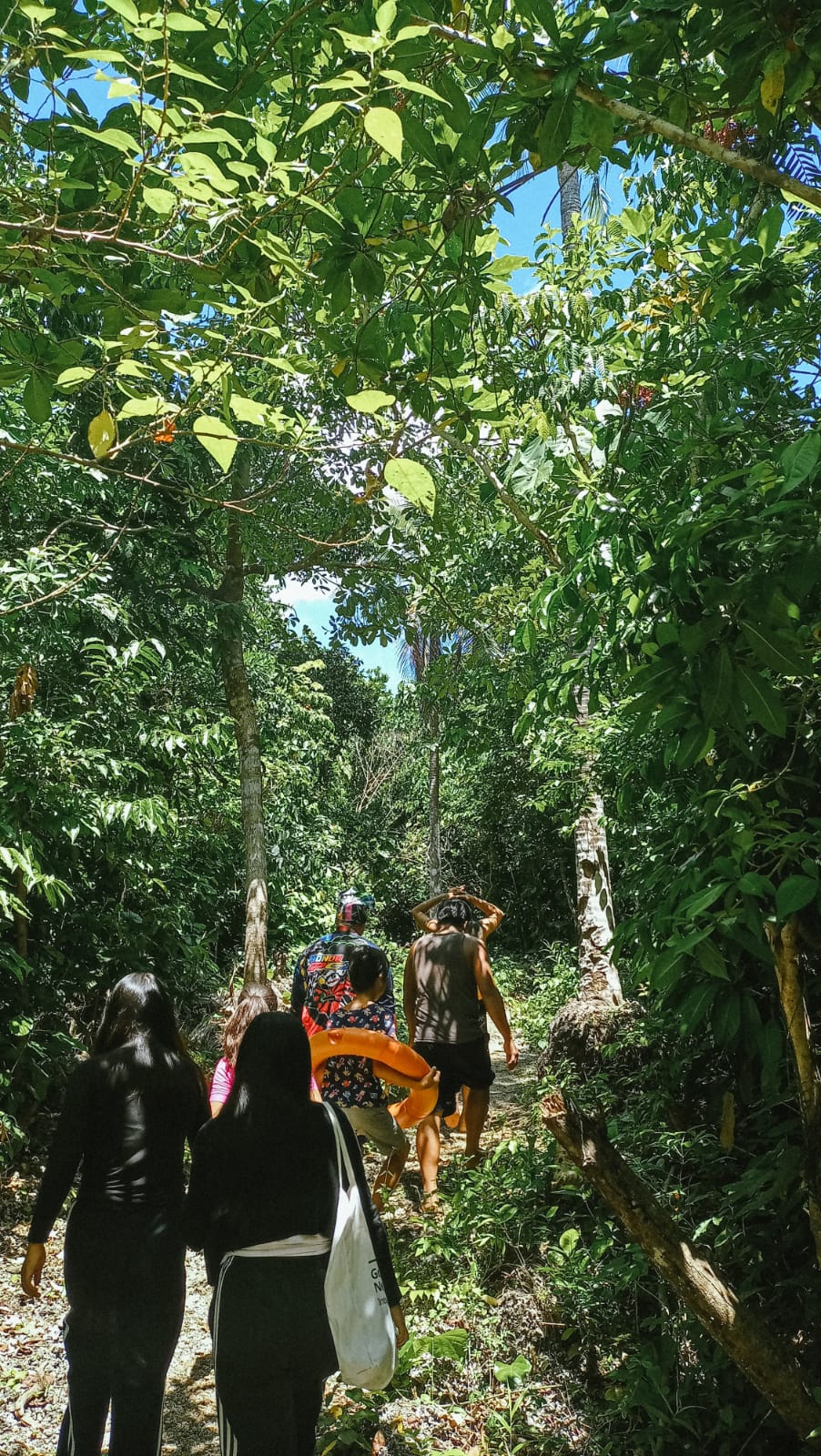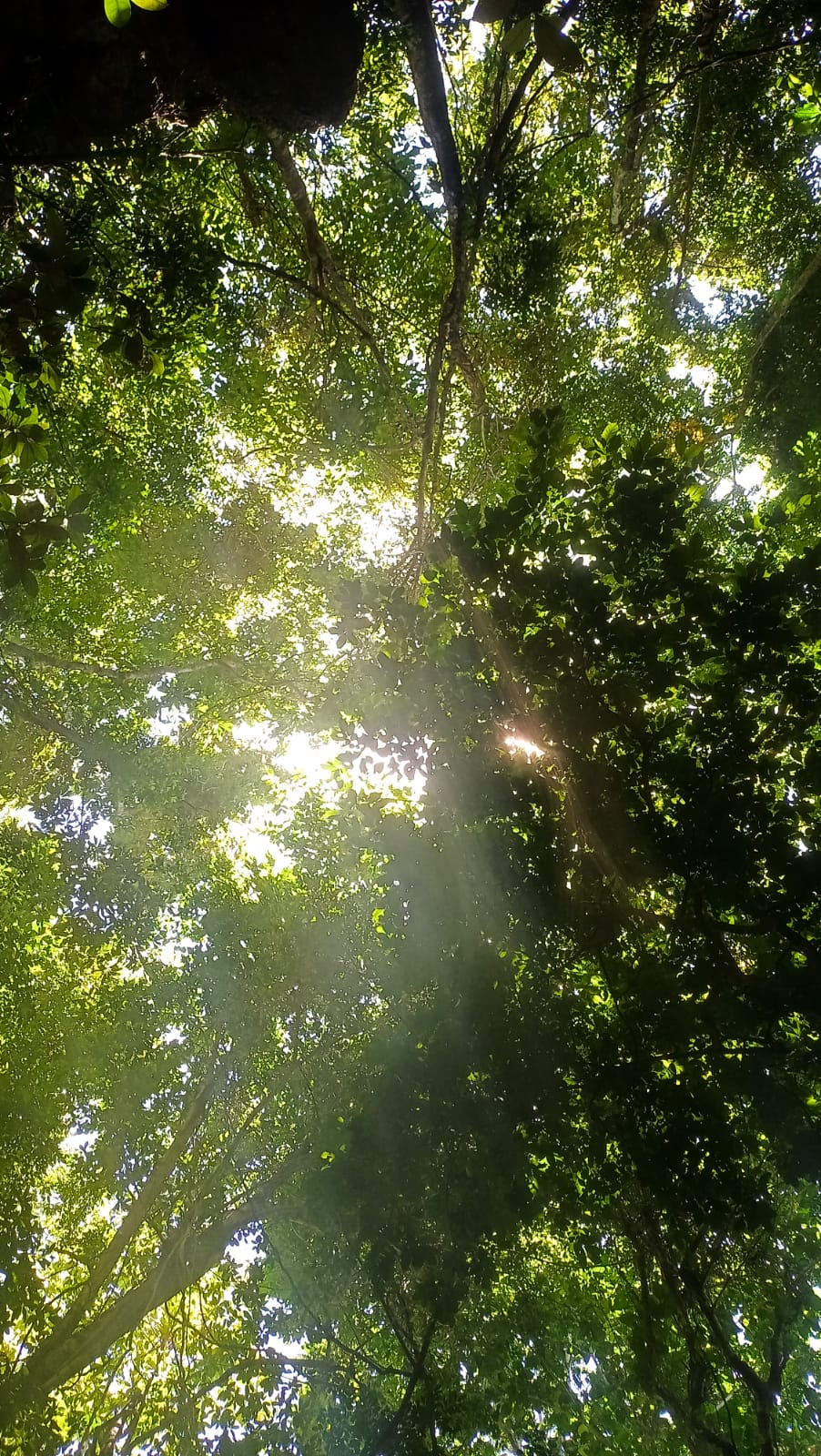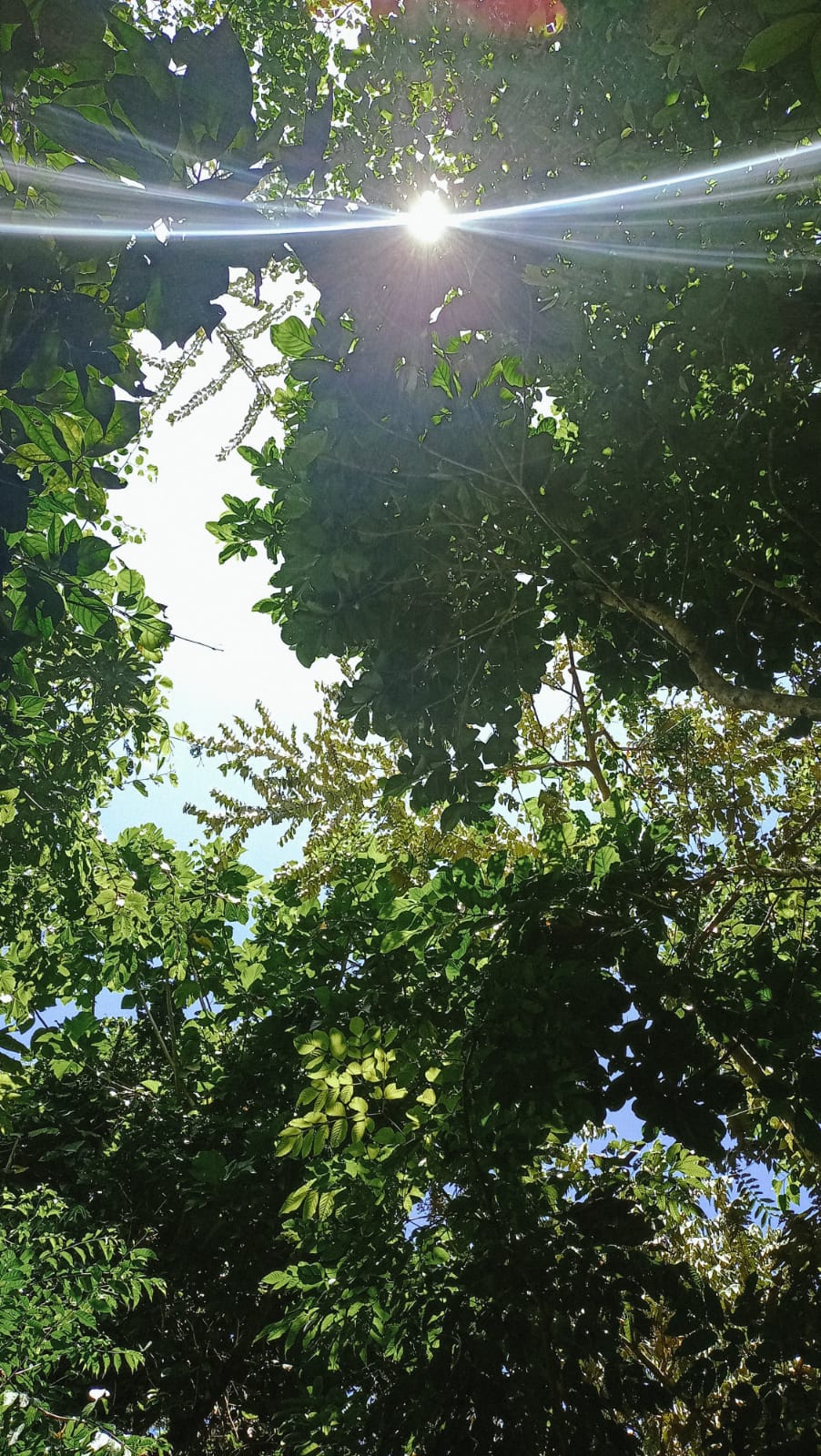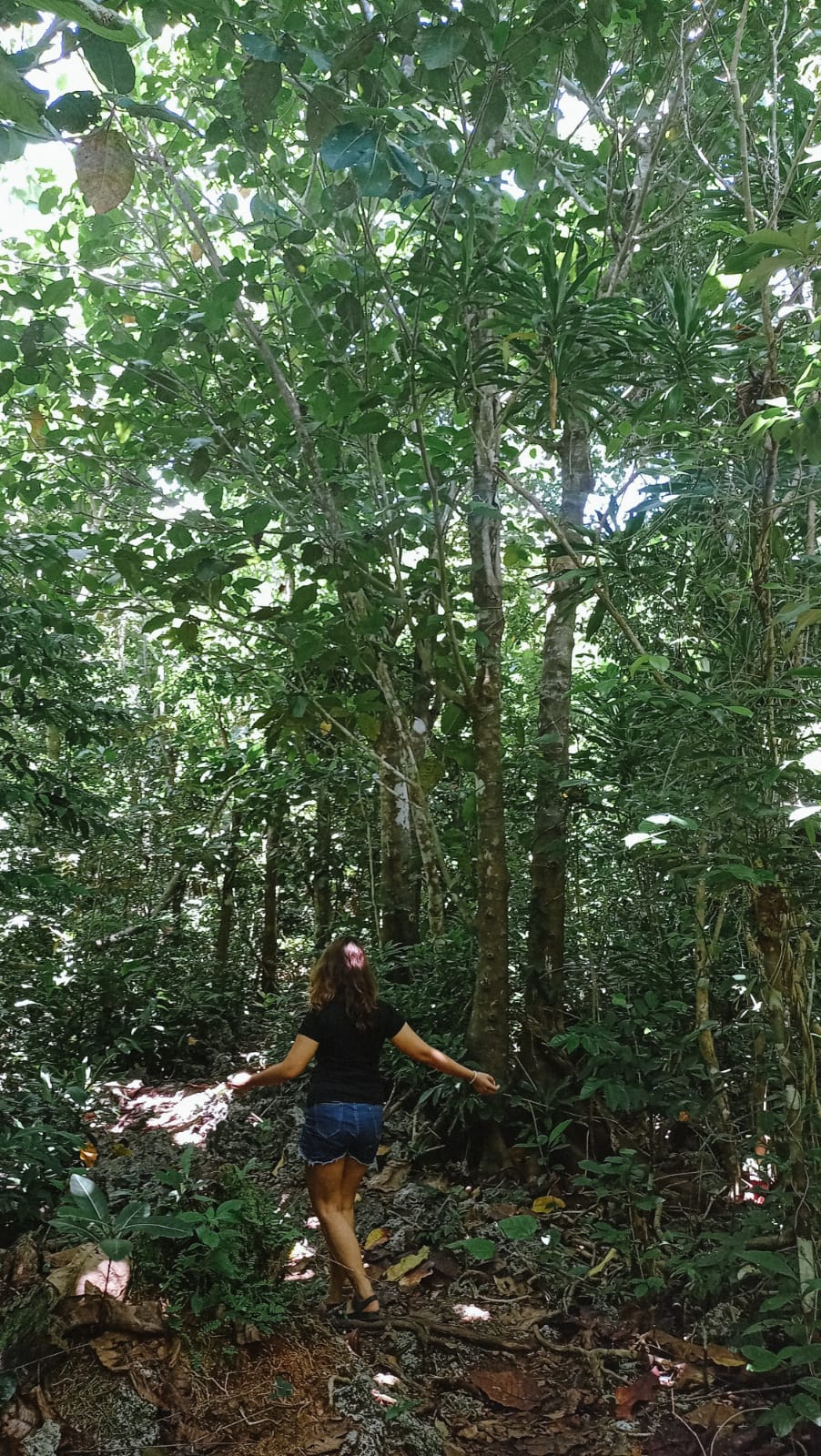 ---
ᴄᴀᴠᴇ ᴇɴᴛʀᴀɴᴄᴇ
Once you reach the end of the trail you will see the entrance to Linao Cave. During the days, there were two ways in which you can enter the cave, you can either go on top and rappel your way to the bottom using a "baging" or thick vines (haven't tried, and would definitely not recommend this) and the second one is through a small dark tunnel with waters.

That is what the entrance would look like. Are you ready? Let's go in!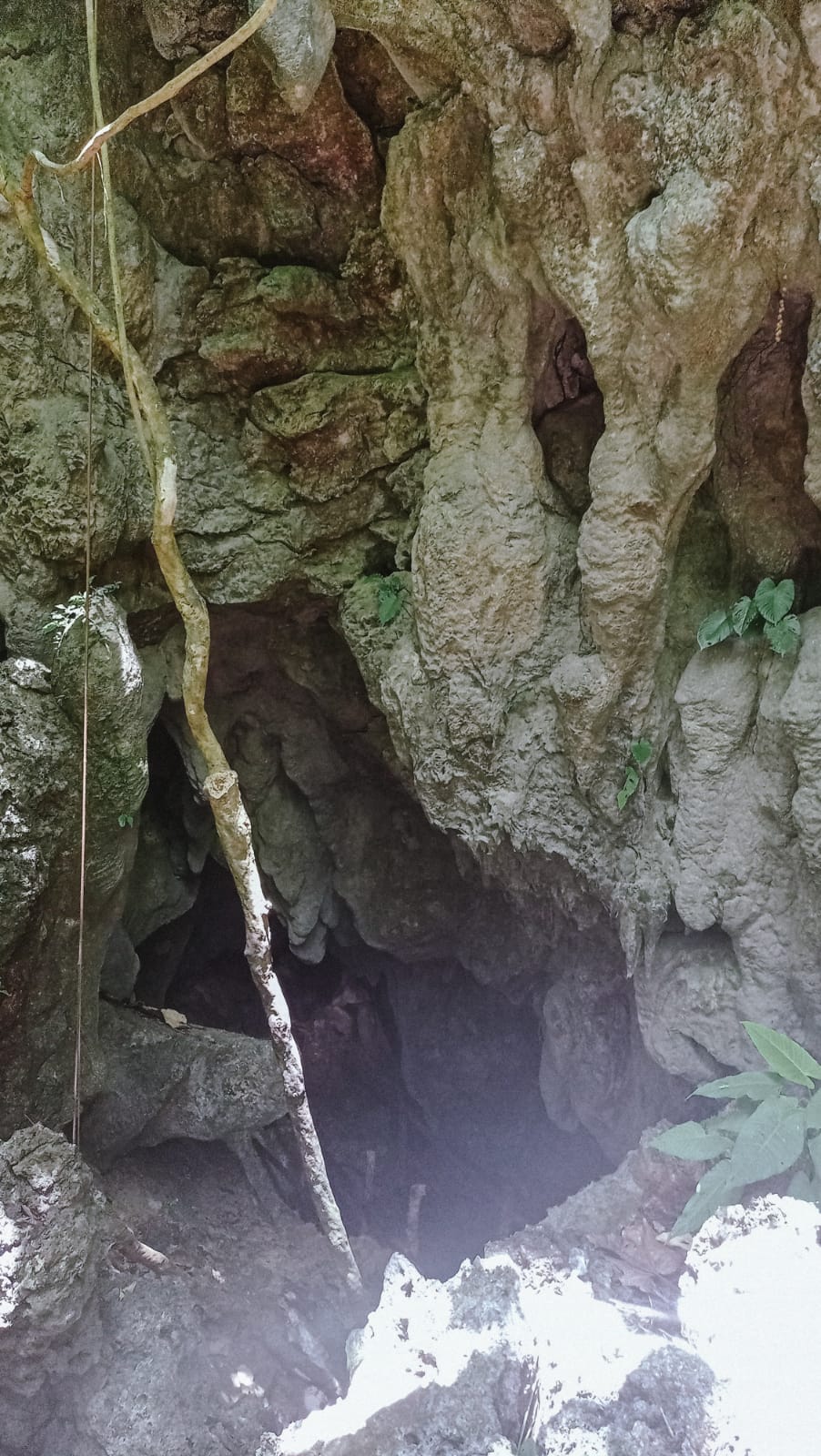 Do you see that small hole down there? That my friends, is where were passing through. Prepare yourself for the start of the obstacle course.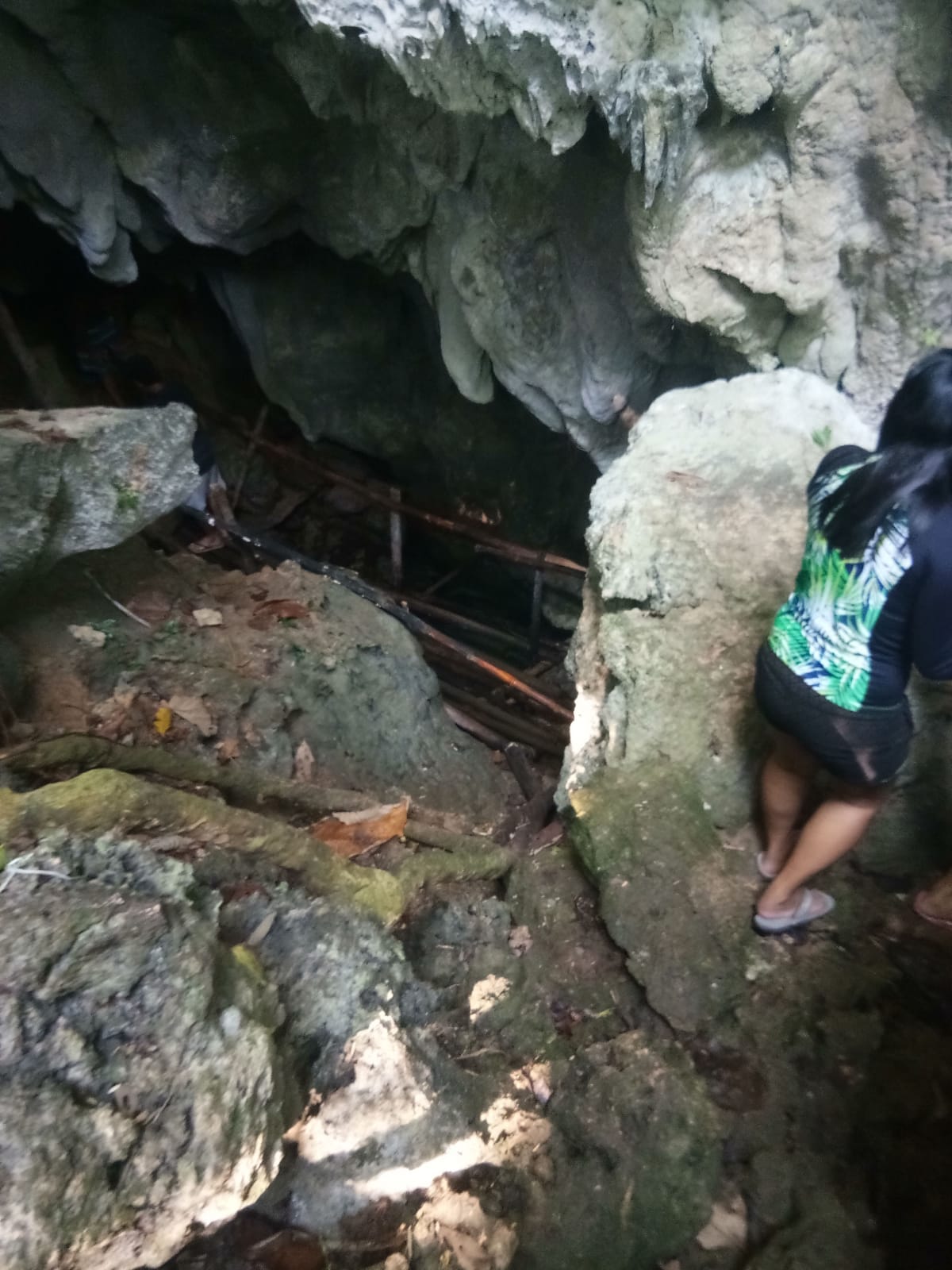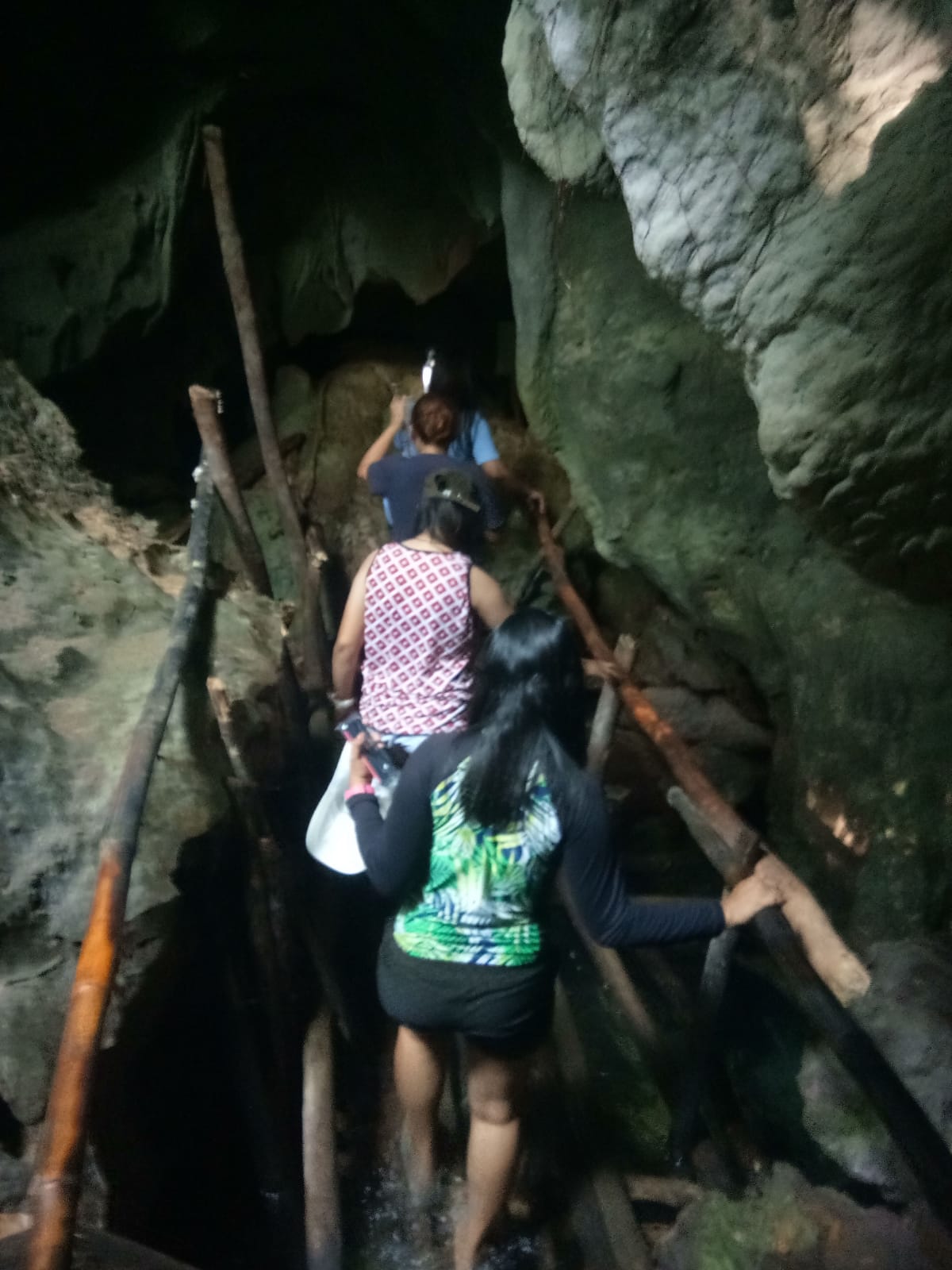 This is what the first part of the entrance would look like.
And once you are able to pass through that wooden bridge, you will enter the first part of the cave. Hope you're not scared of the dark.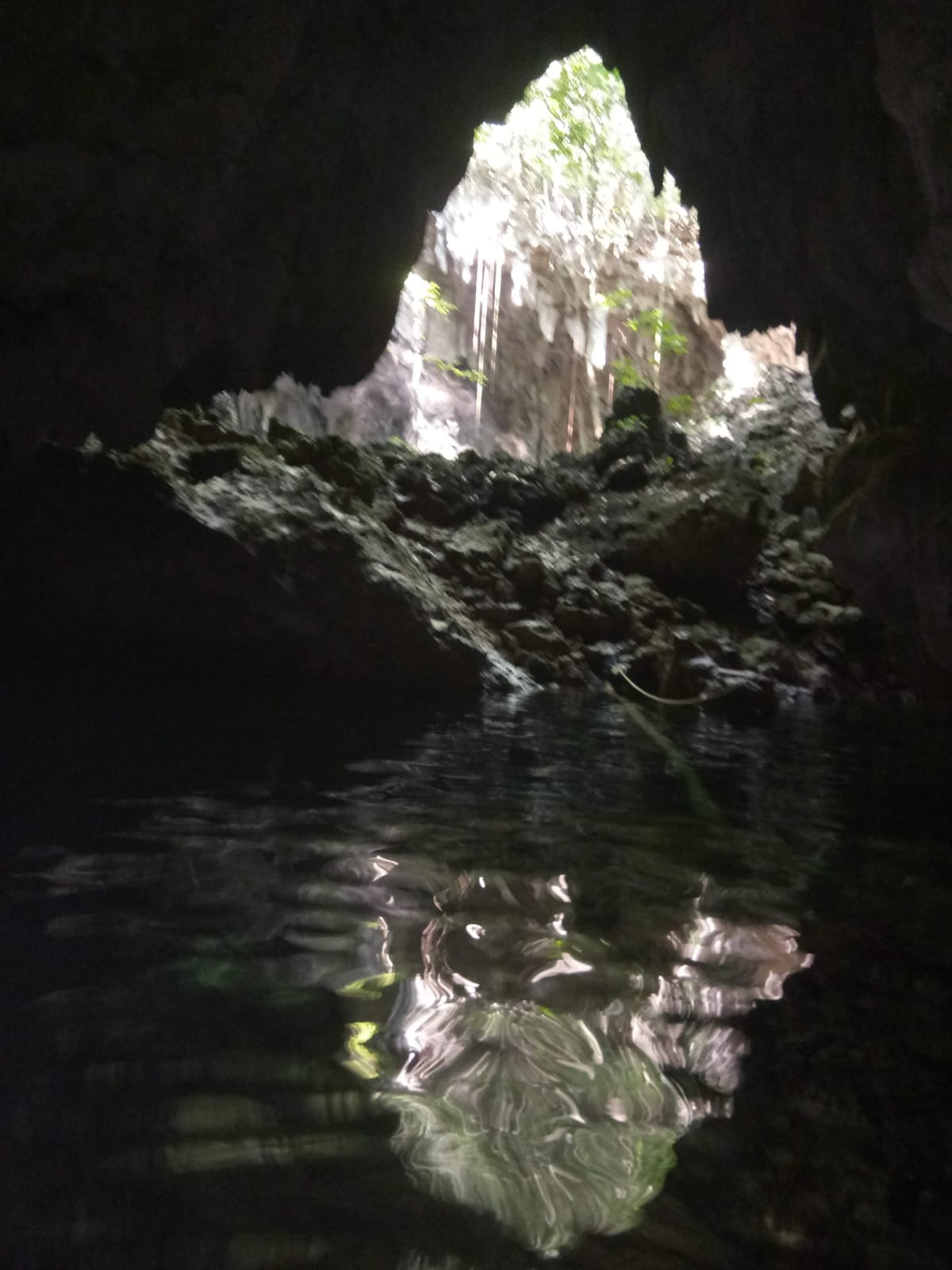 This will be the view that will welcome you when you get pass the tunnel. By know you're already inside the first part of the cave, but it doesn't get easier. In order for you to get through from here up to the main sink hole, you will need to get ready to be wet and hold on the rope for your dear life.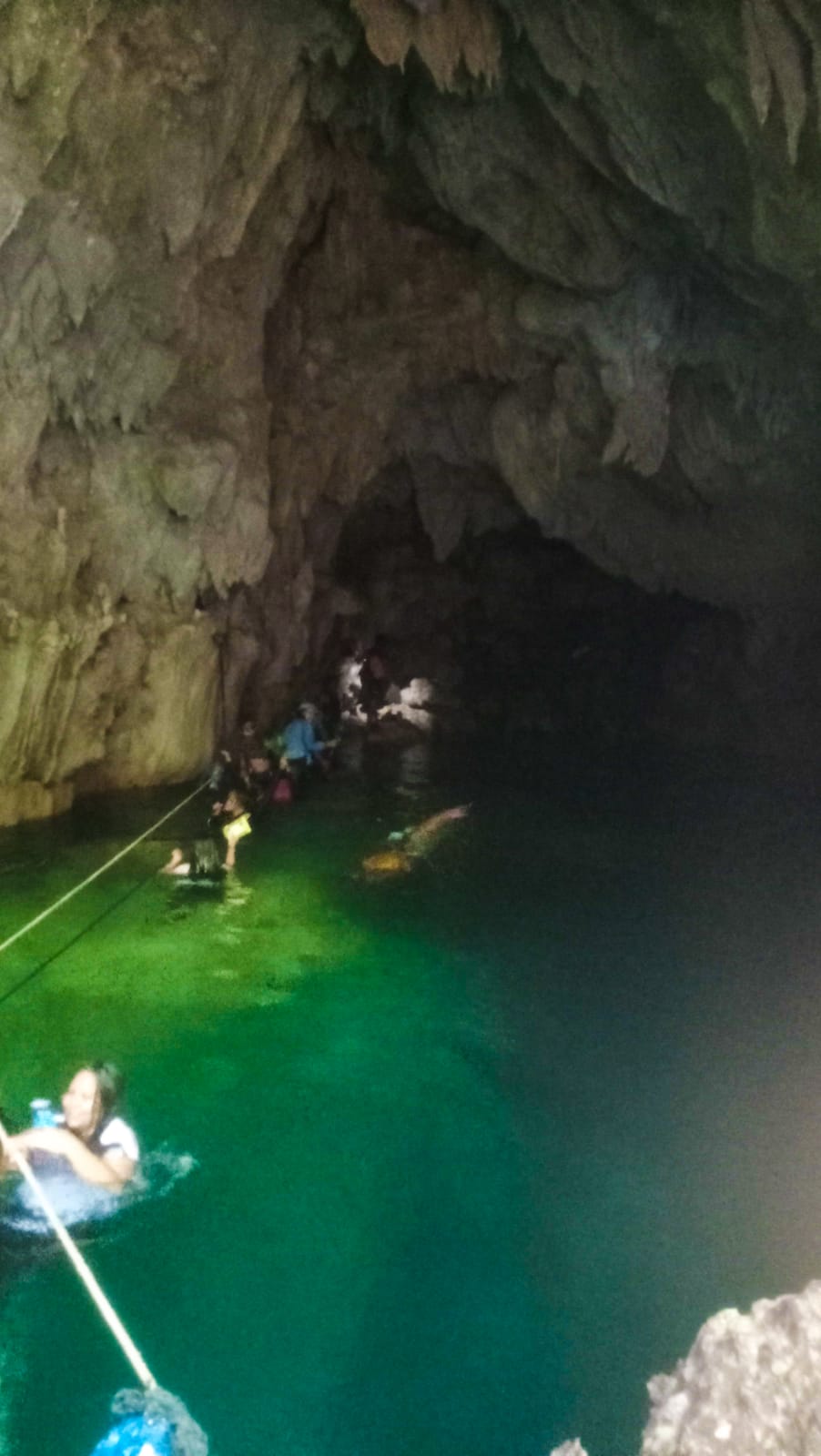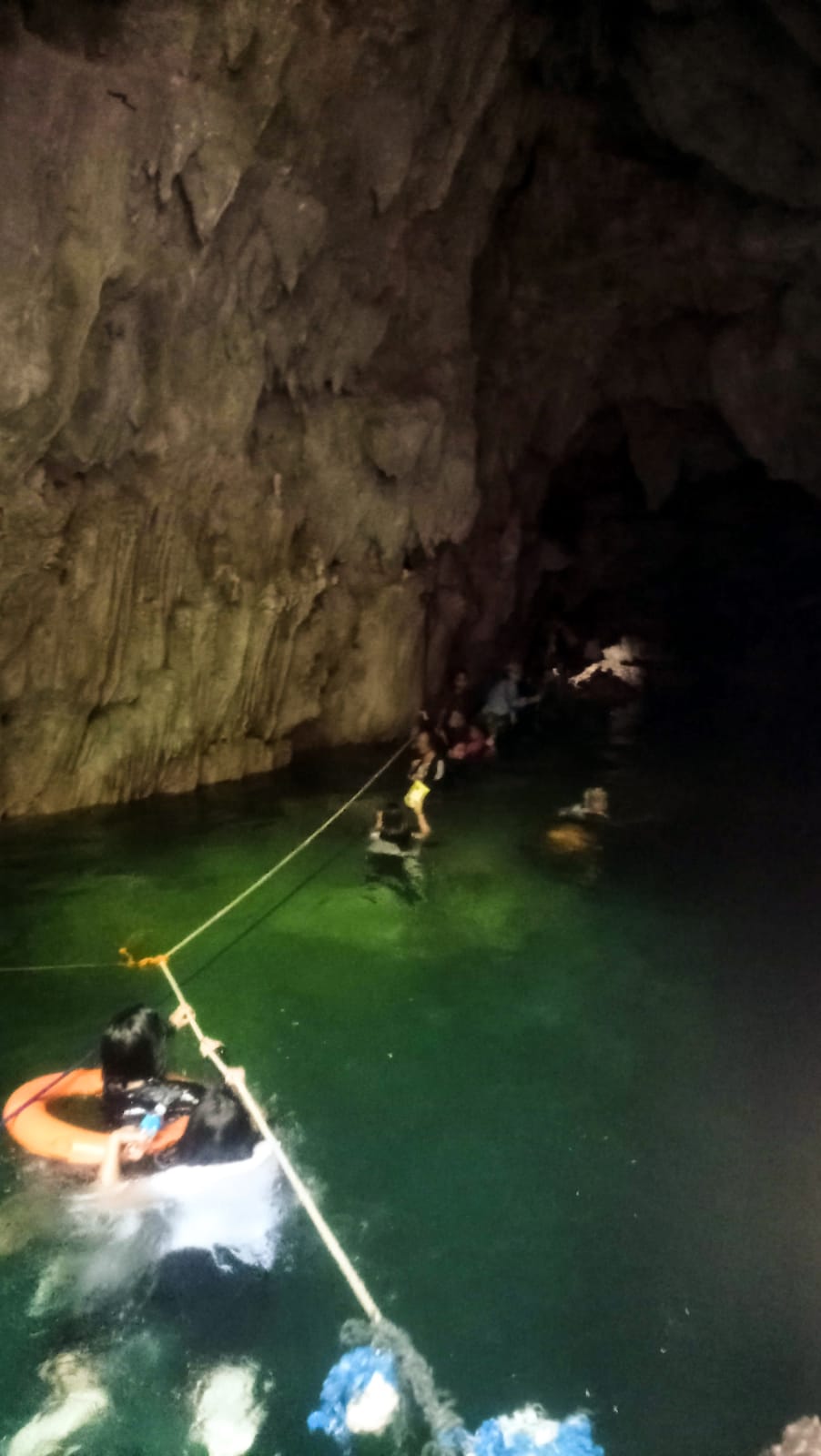 The water level is already above height of an average person. It's quite deep and it even gets deeper during high tides. There are rocks and stalagmites that you can step into if you stick to the sides making it a little bit easier to hold and grab the rope.
---
The pictures I have are quite blurry and aside from the lack of light, it's also quite a struggle if you could imagine. But let's check out photos from Talapang Photography to give you a glimpse from the inside before you get to the rope part.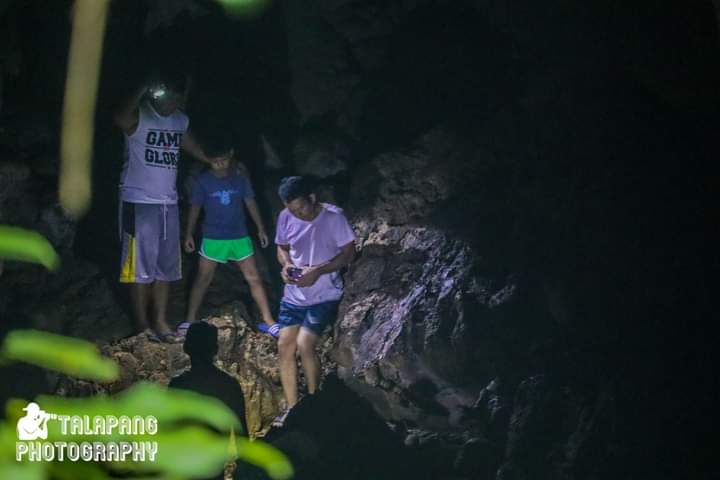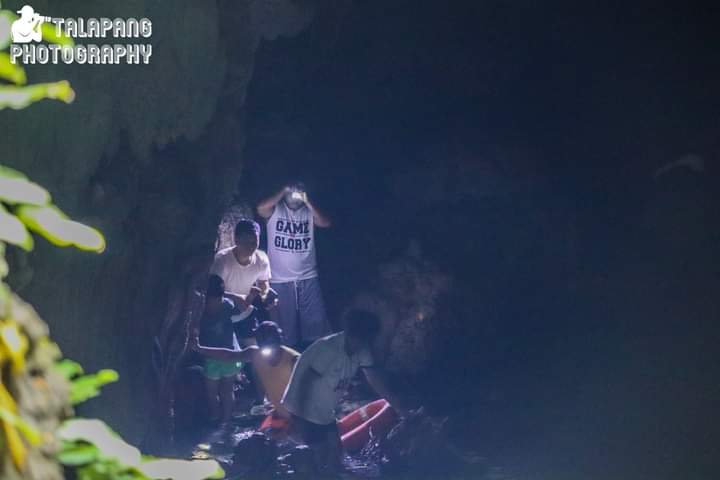 ---
ᴛʜᴇ ᴍᴀɪɴ ᴄᴀᴠᴇ
I hope by now, you haven't given up yet. Were almost there. Beyond the wall of rocks awaits the magnificent beauty of Linao Cave - Eastern Samar's Hidden Gem just waiting for you to explore and enjoy.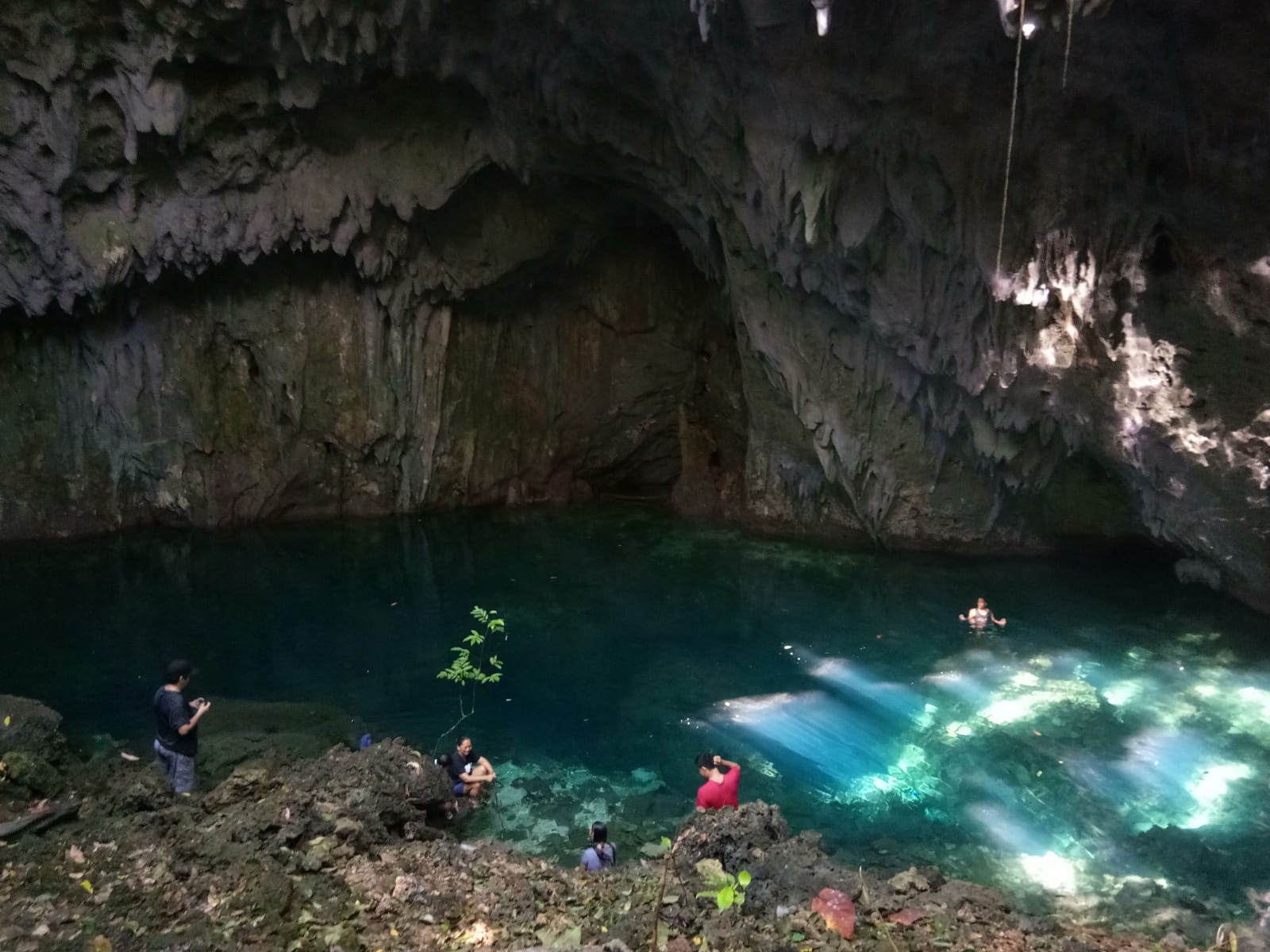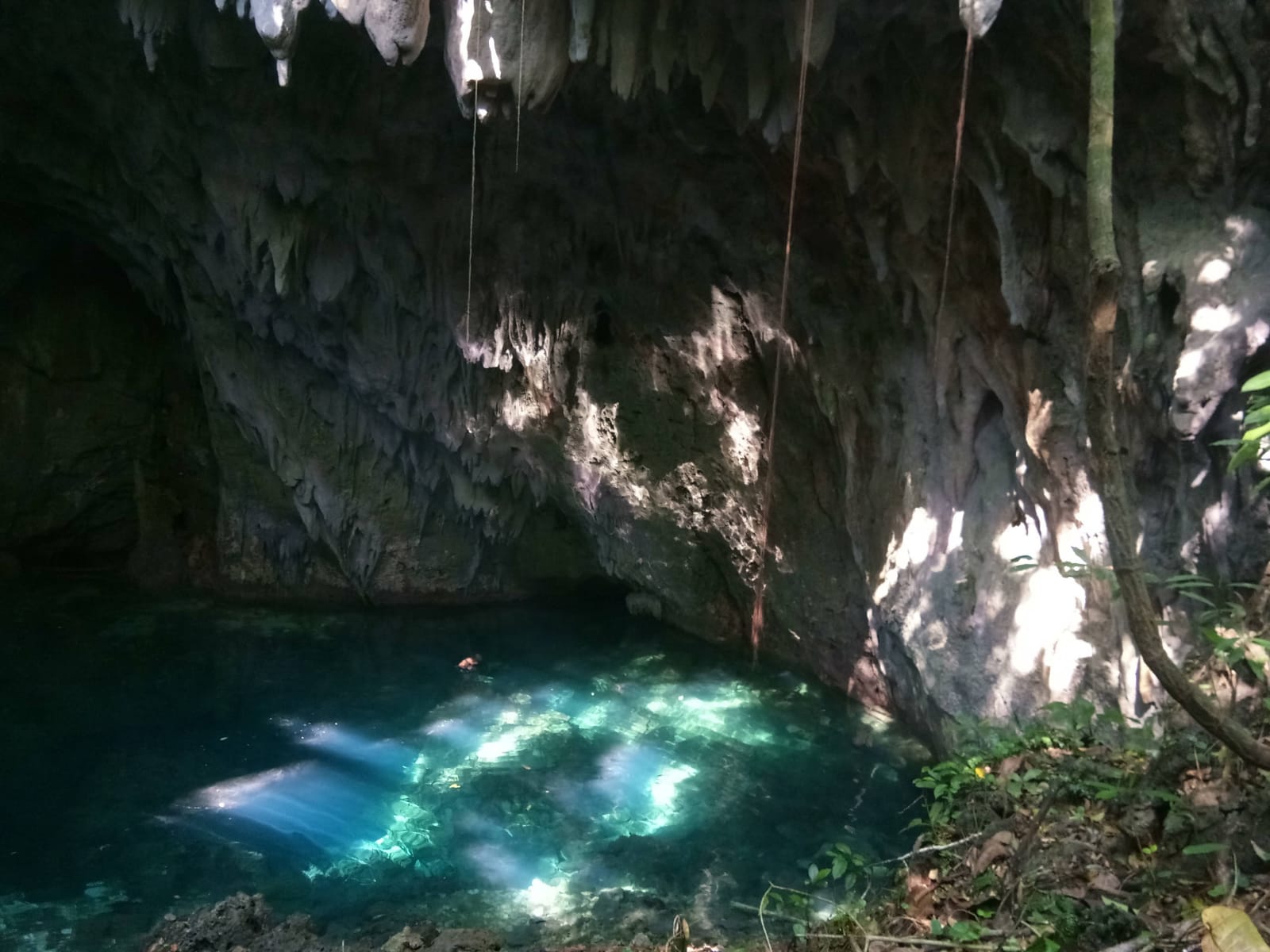 Atlast, you made it. There are various Flora and Fauna that can be found inside the cave. You can find Spiders, Lizards, Bats and small fresh water fish.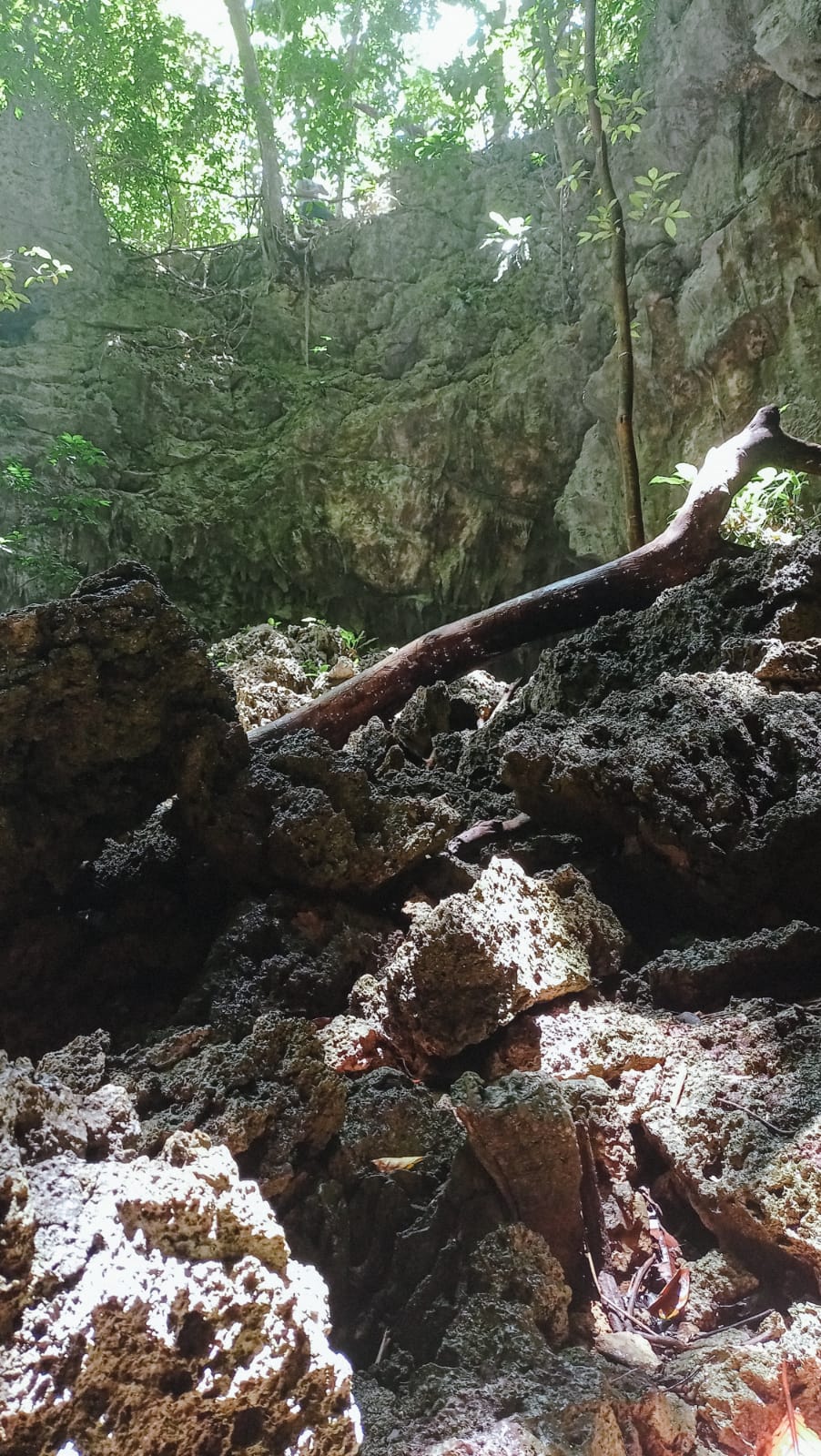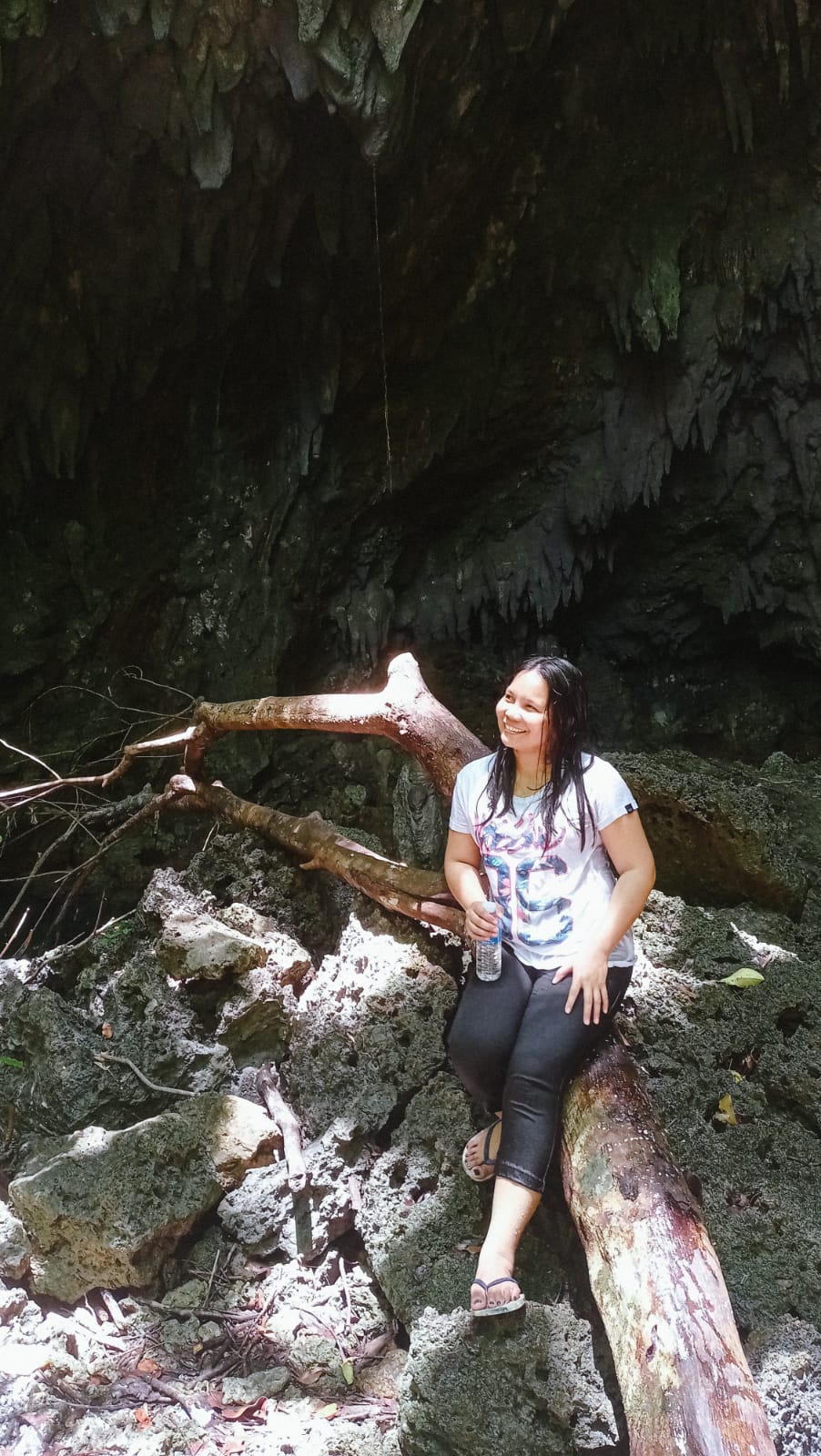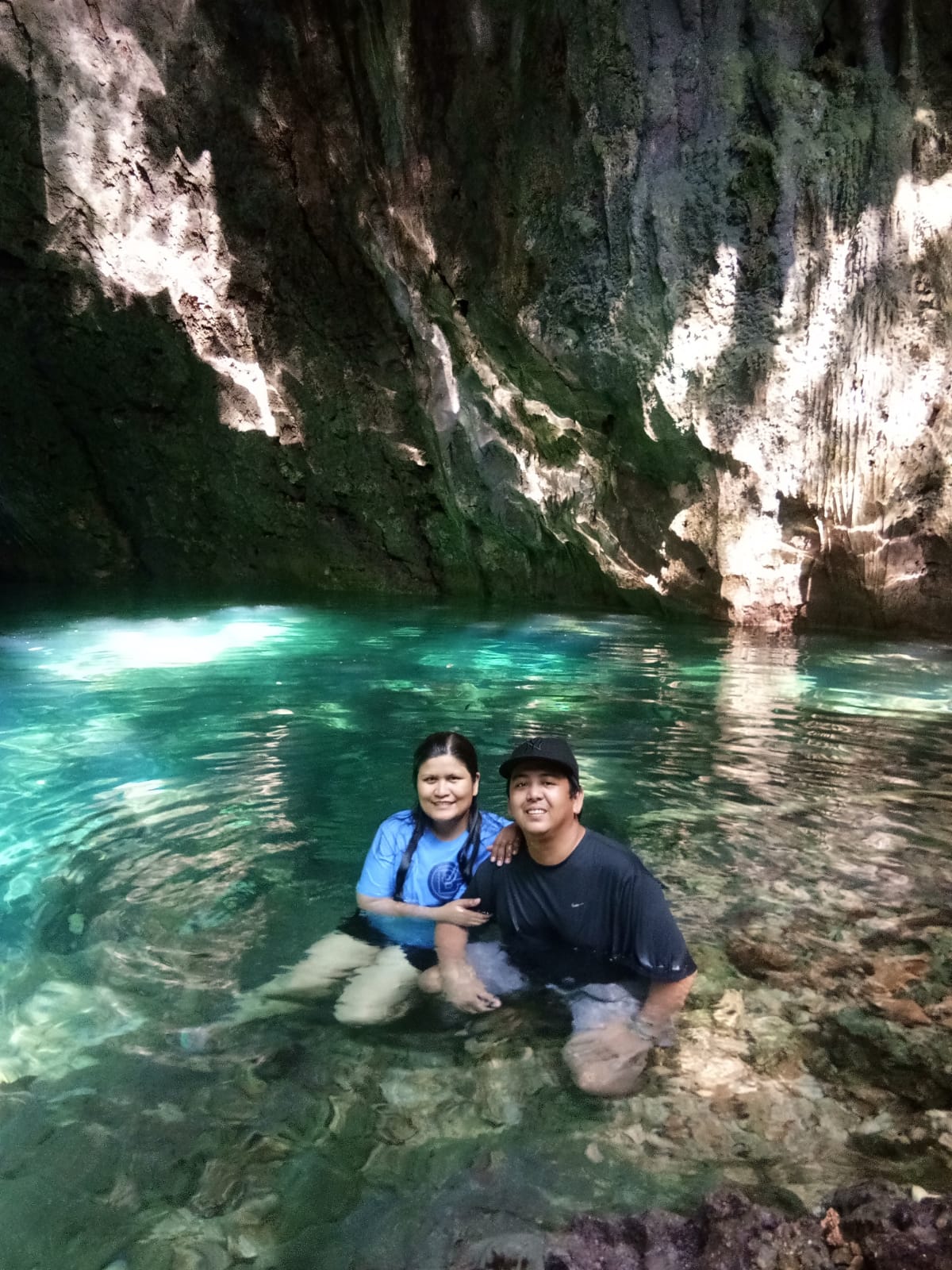 That's it. Have fun and enjoy the cold water on the cave and where ever those explorer feet takes you, remember to always be a RESPONSIBLE TRAVELER.
Hope you enjoyed the blog and is also looking forward to the reopening of Linao Cave. See you in Guiuan, soon! ♥️
---
Reminders and Tips for visitors
🌎 Bring a Flashlight.
🌎 Put your valuables like phone in a dry bag, there's a 99.9% chance that you will get wet even if you don't intent to swim on the cave.
🌎 The place is not ideal for people who don't know how to swim, even just the basic. Bring a life jacket or a floater if your not an experience swimmer.
🌎 Do not bring food and drinks inside the cave. Help preserve our natural attraction.
🌎 And the golden rule, Kill nothing but Time, Leave nothing but footprints and Take nothing but Pictures
It's best to visit the cave in the morning and not during late afternoon as it gets too dark. And if ever you get so lucky, you'd be able to catch a view of the cave somewhat sparkling when the rays of sunlight touches it. I have a photographic picture of it in my memory and it just look so magical.
See you on the road!
---
Did you liked the blog? Let me know if you have been to Linao Cave or in Guiuan. I'll be making a series of blogs focused on Guiuan - from history, activities, accommodation and all sort of stuff that you need to know - It'll be the closed to complete handbook for all you travelers out there.
Follow me if you want to be updated once new blogs comes out. ❤️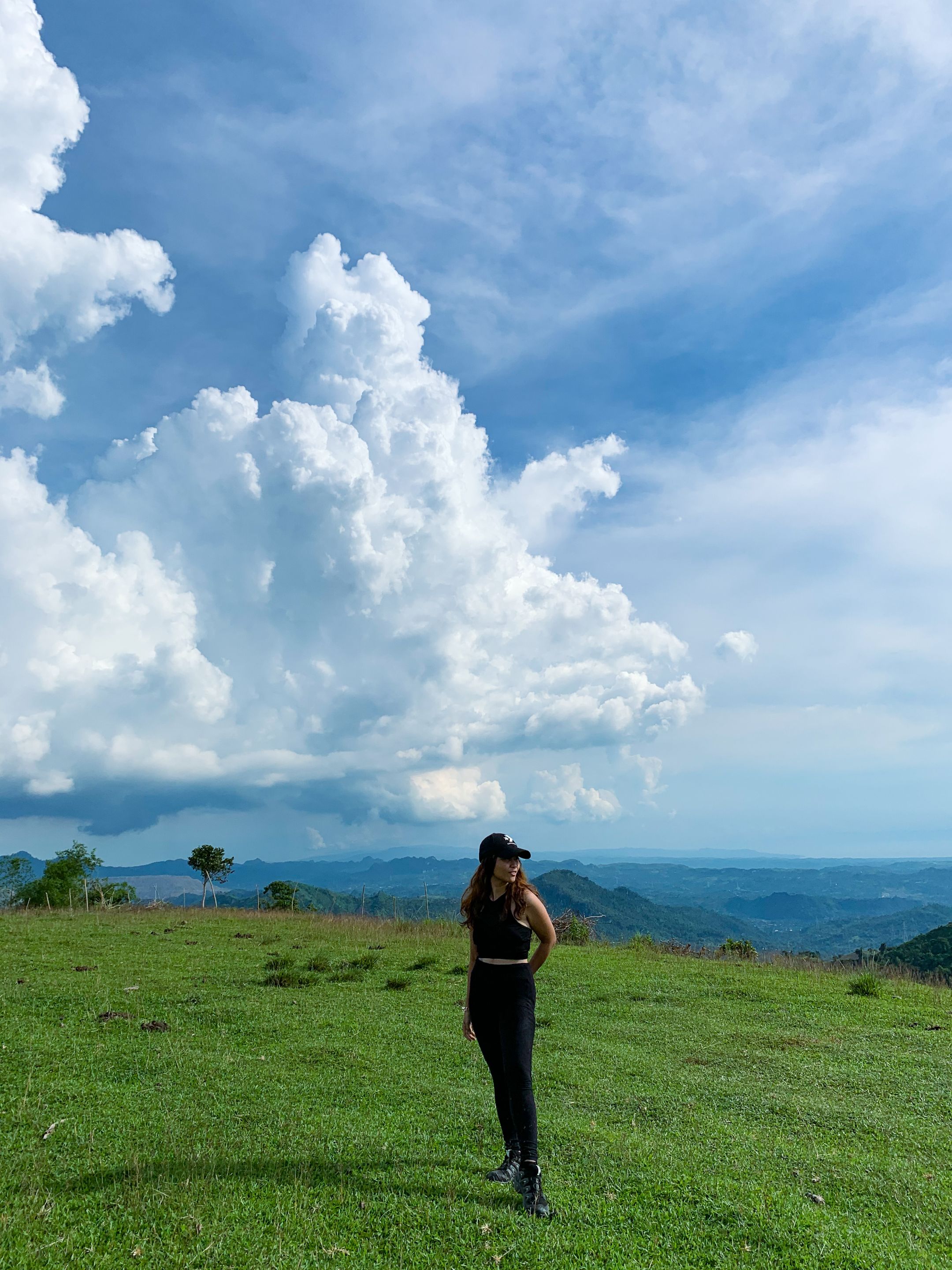 Ma. Morena
is a nature enthusiast, an optimist and outgoing person who loves writing about her experiences and adventures.
Liked what you read? show some love by sharing your thoughts in the comment section, and upvote the content. Feel free to re-blogged the post if you liked it. Don't forget to follow her for more stories and adventures here on Hive.